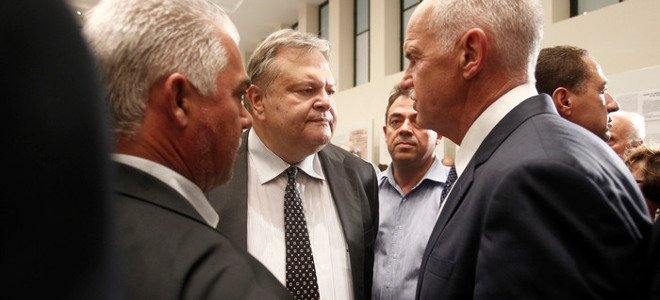 By Lefteris Yallouros – Athens
Former PASOK President and Prime Minister George Papandreou and current Deputy Prime Minister and Foreign Affairs Minister Evangelos Venizelos attended an event marking the socialist party's 40th anniversary.
Forty years since the party was founded by Andreas Papandreou it finds itself in power – via a coalition government with Conservative New Democracy – but miles away from the popularity it enjoyed in the largest part of its history before the financial crisis broke out.
PASOK appears divided, struggling in opinion polls and in search of a way forward that will see core voters return to the party. How far off it is from finding its way was clear for all to see at an exhibition under the auspices of the A. Papandreou Foundation on Monday where George Papandreou and Evangelos Venizelos delivered speeches.
PASOK party supporters who gathered at the inauguration of the photo exhibition – titled "From Rigidity to Change" – organized by the Andreas G. Papandreou Foundation at Zappeion Hall as part of the celebrations to mark the anniversary of 40 years of PASOK Party, showed their discontent towards Venizelos when he took the podium.
Supporters of George Papandreou chanted the former PM's name and urged him to take the helm again and steer the party away from the coalition with the conservatives.
"We will speak on Wednesday about the PASOK's post-regime days, about what happened and how we have come to this point and where we should go. We will talk honestly, as circumstances demand," Venizelos said in reply to jeers and angry cheers against him heard from the crowd.
Papandreou did nothing to stop the crowd from voicing their anger at the PASOK leader. Instead, he said that citizens are demanding a new start and criticized the government and its handling of the economy.
Leading up to the event, former Parliament President Filippos Petsalnikos and former Finance Minister Giorgos Papakonstantinou received applauds by the gathered crowd.
The party is to hold a main event on Wednesday to celebrate the anniversary of the founding of PASOK. Evangelos Venizelos will deliver a speech in which, according to sources, his anger at the Zappeion on Monday will be expressed. Former PM Costas Simitis will also speak while George Papandreou has already alerted the party that he will not be attending the event as he is scheduled to deliver a speech abroad.
Supporters of Papandreou and Venizelos argued on national television and social media on Tuesday as the deputy PM's camp saw what happened at Zappeion as an orchestrated attack on the party's leadership by those wishing to see Papandreou make a comeback to the main political scene.
Despite this year's celebrations being built up as an opportunity for PASOK to overcome divisions and set the tone for the future cooperation of the center – left parties, the socialists have emerged from proceedings more divided than ever.
(photo: iefimerida.gr)