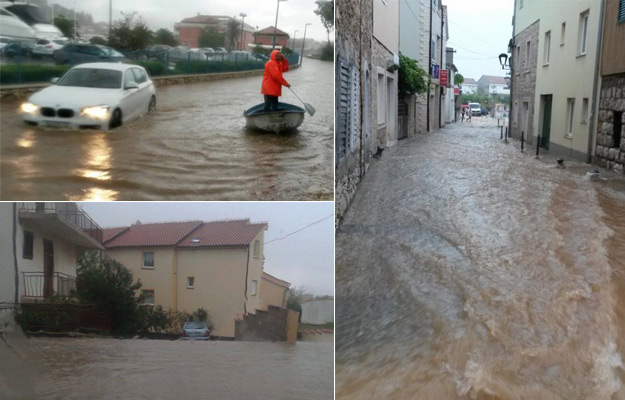 By Marija Avramovic – Zagreb
Dubrovnik is affected by the cyclone Thalia, which resulted in heavy rain has been falling since last night, when the storm hit the city.
Part of the transmission line has been severed leaving a large part of the parish without electricity, the Dubrovnik daily reported.
This morning Stradun, the limestone-paved pedestrian street that runs some 300 meters through the Old Town, was covered with water, which is something no one from Dubrovnik remembers happening in the past. Heavy rain has been falling for hours and no one knows when it will stop.
Very strong thunderstorms accompanied by heavy downpours affected western and central parts of Sibensko-kninska county on Thursday morning and created true chaos – water flooded streets and homes. In a short timeover 100 liters of rain per meter fell in the area.
Some 240 liters per square meter of rainstorm was falling to Crometeo monitoring station guide – Blata during Thursday until late afternoon.
Severe amounts of rainfall in a short time flooded much of the town of Vodica, so the firefighters had their hands full.
Numerous homes, commercial buildings, schools, kindergartens and various roads are still flooded. Although the situation is beginning to return to normal, in the afternoon new thunderstorm clouds are constantly being created.
The Mayor of Vodica Branka, Juričev-Martinčev, said that "Vodica is in a chaotic state" and added that one kindergarten, school and cultural center had to be evacuated.
When it becomes possible for us to control the weather and nature, then we will be what we are not meant to be – the lords of all"; with these words the Prime Minister Zoran Milanovic tried to justify the work of Croatian waters company.
"Croatia has a highly developed system of flood protection, especially when compared with neighboring countries", Milanovic said recalling that Germany, Austria, the United Kingdom were faced with catastrophic floods, despite having more developed sewage system than Croatia.
When asked about the flood in Letovanic, a land owned by the state, where the bank broke a few days ago, Milanovic said that it was an occupational hazard and that there would always be floods.
"It is up to us to protect as best as we can", Milanovic concluded.