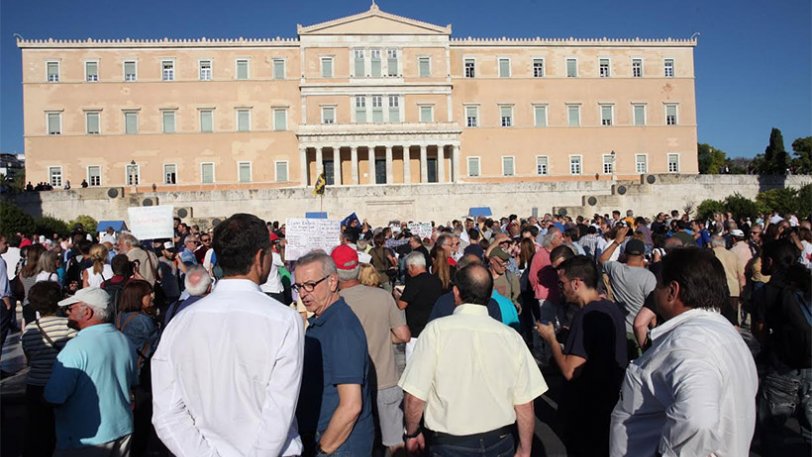 Athens, June 16, 2016/Independent Balkan News Agency
By Spiros Sideris
It appears that the rally of "resign" captured more the attention of the media and politicians than the people, since attendance was not satisfactory for organizers, who expected greater participation.
Amid political debate about the characteristics, but also on whether it is politically unpainted, was completed the rally of "resign" at the Syntagma Square. More than 8,000 people, according to the police, gathered in front of the monument of the Unknown Soldier.
The concentrated – citizens of all ages – demonstrated peacefully, without speakers and party flags, but with Greek and some European flags and banners with slogans.
Among them, a banner with the slogan "You are destroying the country, leave now", which SYRIZA MPs had posted in the courtyard of the House, as well placards with the slogan "Go Home Tsipras".
Through the loudspeakers, apart from slogans, could be heard the campaign promises of Prime Minister Alexis Tsipras.
Only a few politicians attended.
A rally of "resign" was also organised in Thessaloniki, in front of the White Tower, with minimal involvement. Protesters set up microphones on the pavement in front of the White Tower, with music and slogans with which they called on the government to resign, showing it a symbolic "red card".
"We ask for a reduction in government spending, we demand imminent reforms on all aspects of our daily life, we ask the drastic reduction of the VAT and the new indirect, direct taxes, with which we are burdened for the illusions of irresponsible rulers, we say no to division and the creation of false enemies abroad and within the country, because the position of our country in the eurozone is not negotiable", was among the passages that were heard from the speakers.