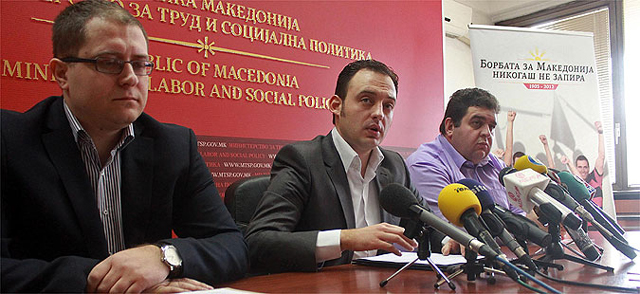 Skopje, May 28, 2013
Prime Minister's Gruevski governing cabinet will undergo changes. The Minister of Education and Science, Pance Kralev will be appointed advisor for educational issues of the Prime Minister's cabinet. His reappointment follows his resignation on April 19, 2013.
On his letter of resignation, Kralev says that for personal and family reasons, he cannot entirely commit himself in completing future projects.
Kralev remains on the team of the Prime Minister as collaborator and advisor for educational issues, assisting him on the improvement of the educational system. In the quality of minister, he was involved in major projects, which aimed to improve the education system through construction and reconstruction of schools, provision of more scholarships in renowned world universities, etc.
Kralev is replaced by Spiro Ristovski, current Minister of Labor and Social Policies, who introduced serious reforms such as minimum wage, several employment measures, holidays for children in need, etc.
Ristovski is replaced by Dime Spasov, current head of Property Register Office of Skopje and former state secretary at the Ministry of Justice and director of the Agency for Youth and Sport.
Xheri Naumov has been appointed as a minister without portfolio. He will be engaged in attracting foreign investments. Naumov has an extensive experience on an international level and has worked with a number of renowned companies, especially American.
Georgia Sajkovski will be appointed as the new Minister of Local Government.
The new government changes will be voted tomorrow in parliament. /ibna/