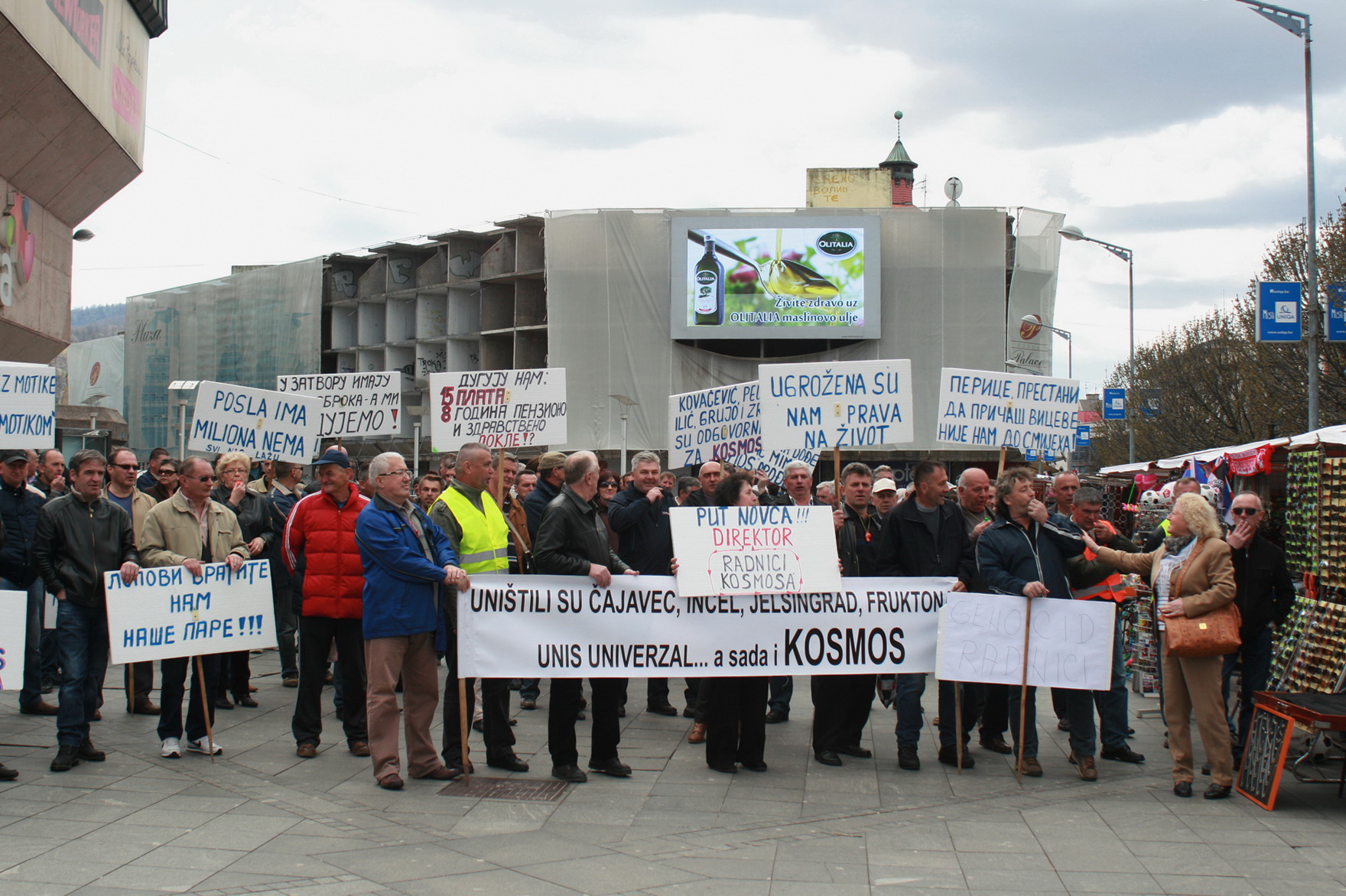 Banja Luka, April 3, 2015/ Independent Balkan News Agency
By Mladen Dragojlovic
More than 70 employees of "Kosmos" company held a protest in the Banja Luka central square, Trg Krajine, in order to protest on the facts that they haven't received a salary for 15 months and for more than eight years they have no contributions for pension and health insurance.
This the fourth time that these employees are coming on this square on Friday at noon and continue their walk through the RS capital, passing near RS Government building. Every time they are near this building, workers start to shout calling the RS PM Zeljka Cvijanovic and other officials "thieves", considering them responsible for the difficulties the company is facing. A few days ago, RS minister of Industry, Petar Djokic, said that institutions will revise the situation in "Kosmos" and punish those who are responsible for the current situation. Howevert, employees don't have much faith in his promises.
"His statement is important because we know that we have opened the door for finding a solution. If the government fails to resolve the situation in our company we will come back and protest again next Friday. My child loves chocolate too, but I have no money to buy it", leader of protesters Zeljko Nikolic told journalists.
President of RS Trade union confederation, Obrad Belenzada, called the government to dismiss the company's management due to incompetency.
"Employees want to keep their working places and the entire company standing. They don't want this previously successful company to go bankrupt. Those who want such a thing, want to hide a criminal in this company", said Belenzada in the protest.
But, there is also an other side of the story. Protesters are a minority group in the whole company, which has more than 200 employees. The rest of the employees are every day on their places and work hardly to fulfill all contracts they have with foreign companies. "Kosmos" company is specialised in the overhaul of automation systems, professional electronic equipment of various purposes, combat and non-combat vehicles, as well as a wide range of power engineering devices and systems. According to management, they have several contracts which are essential for the future of the company.
Mihajlo Zrnic, president of Trade union organisation in this company, told the media  Friday that all employees received 250 KM (about 125 Euro) as a part of one salary, but that he expects the rest of the salary in next ten days.
"The most important thing is to secure the contracts with business partners. We too want to prevent the bankruptcy of the company, but differently than those who protest; we are doing it by bringing money. At this moment we have contracts with companies from USA and other countries and if we give them up it will be the end of company", Zrnic stressed.