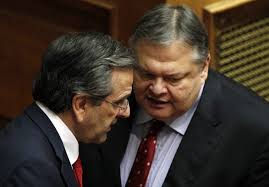 By Lefteris Yallouros – Athens
Thousands of citizens took to the streets in Athens on Tuesday ahead of a parliamentary vote on reforms. Civil servants and municipal employees protested impending layoffs in the public sector that are set to affect them.
Everything came to a standstill on Tuesday as public transport stopped running, hospitals worked with emergency staff and public sector workers joined the strike too along with aviation industry employees, bank employees and several other groups.
"We are continuing our fight to put an end to policies that annihilate workers and drive the economy to an even greater recession," said the private sector union GSEE, which called the strike with public sector union ADEDY who jointly represent nearly 2.5 million workers.
The bill which includes job cuts for teachers, municipal police and civil service posts was discussed in parliament on Tuesday and will be put to a vote on Wednesday.
Some 12,500 public workers are to be placed in a so-called "mobility pool" from which they will be transferred to other departments within eight months or lose their jobs.
Prime Minister Antonis Samaras met with Foreign Affairs Minister and Government Vice-President Evangelos Venizelos on Tuesday to make a series of changes to the proposed bill in order to ensure it will be approved by the coalition's 155 deputies.
The two men agreed to keep on school guards with Master degrees and PhD's as well as transfer the entire municipal police force to the metropolitan police where they will take on neighborhood watch duties. It was also decided to withdraw a provision that would have led to mayors facing disciplinary action for not keeping within their budgets and the government also backed down on the powers that an observatory set up to monitor municipal finances would have.
The bill however stretches beyond public sector reforms. It also includes several prerequisites for the disbursement of Greece's next rescue loan tranche by the troika, most notable of which is the new tax code introduced by the finance ministry.
MP's fiercely debated the drastic changes relating to tax law and new mechanisms for deciding the minimum wage.
"The government aims at lower taxes, an expanded tax base and fighting tax evasion – and to do this you need to modernize the tax system. We are going ahead with this reform process not because we were asked to, but because we should", deputy Finance Minister Yorgos Mavraganis said in Parliament.
Opposition parties heavily criticized the laws introduced with main – opposition Coalition of the Radical Left (SYRIZA) deputy Euclides Tsakalotos saying the new tax code is particularly unfair as employees and pensioners are called upon to pay the lion's share yet again.
Analysts expect the bill to be approved by the ruling majority without surprises in what is seen as the first real test the government faces after the Democratic Left exited the tripartite coalition last month.