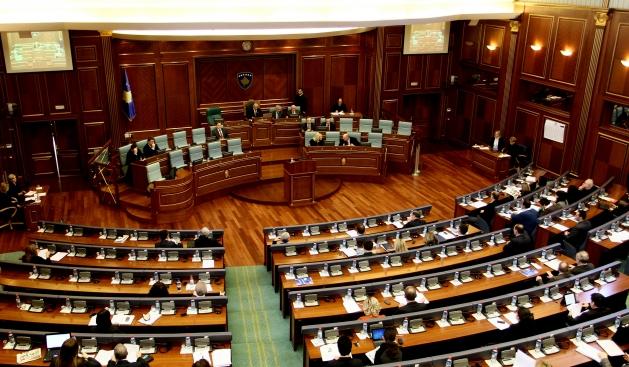 Pristina, July 17, 2014/Independent Balkan News Agency
By Elton Tota
The first parliamentary session in Kosovo has started with reactions and nervousness, as the seats which were decided to be occupied by the MPs of the coalition LDK-AAK-INCENTIVE, were occupied by PDK lawmakers.
The session was opened by PDK lawmaker, Flora Brovina, as the most senior MP in parliament and alongside her was Teuta Rugova, the youngest MP from LDK. The session started with the first disagreements, as Brovina has not allowed LDK's lawmaker, Vjosa Osmani to react about the order of the seats in the hall, which were decided before hand by the old steering committee of parliament.
Following these debates, all 120 MPs and their parties proposed the members for the commission for the verification of the MP mandates.
PDK proposed Memli Krasniqi MP, LDK-AAK-INCENTIVE proposed LDK lawmaker, Armend Zemaj, although their proposal was objected by the speaker, saying that each party must propose its candidate.
Clashes between political parties in parliament continued following the proposal for the election of the speaker of parliament and the deputies.
LDK proposed Isa Mustafa on behalf of the opposition coalition as speaker of parliament, but this was objected by PDK.
PDK lawmaker, Hajredin Kuci said that more maturity should be shown for the establishment of institutions and that after this, the issue must go to the Constitutional Court.
But, Vjosa Osmani from LDK has said that their decision is constitutional and that Mustafa's candidacy should have been introduced for voting.
The speaker of parliament insisted on a short recess in order to hold consults with the political parties.
Meanwhile, the majority of PDK lawmakers have abandoned the hall as a sign of discontent for the way it was being held.
Currently, no proceedings are taking place in parliament and the first session has been blocked. /ibna/