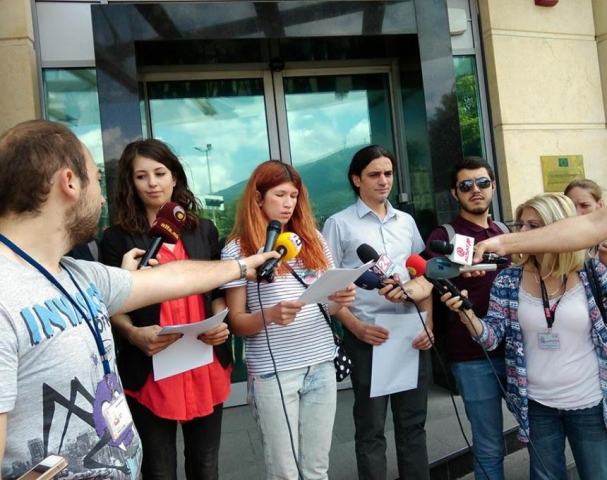 Skopje, 8 July 2016/Independent Balkan News Agency
By Naser Pajaziti
Civil society organizations demand to become part of political talks aimed at solving the political crisis. 88 NGOs have addressed such request to the European Union, USA and to the four parties that signed the so called Przno political agreement.
Sanja Bogatinova, one of the heads of this incentive says that the citizens are unhappy with the lack of transparency in the talks being held between the four main parties, VMRO-DPMNE, BDI, SDSM and PDSH.
"Our scope is to secure the necessary conditions for free and fair elections, where the citizens will be encouraged to participate in the upcoming elections", said Bogatinova.
NGOs are demanding to have their own representatives as monitors in the elections. Petrit Saracini, activist and journalist told IBNA that the sooner the involvement of civil society is accepted, the better it is. "We have not given deadlines, but the sooner our demand is granted, the better it is. On the other hand, protests will go on", Saracini said.
Small political parties have also demanded participation in talks. Faton Fazliu of BESA Movement told IBNA that the dialogue for the solution of the crisis must be comprehensive.
"In the meetings that we've had with international representatives, we have expressed our concerns for the country. They believe that there must be a wider bloc in these talks in order to address the problems of the country as soon as possible", Faton Fazliu said.
In relation to this issue, EU ambassador, Aivo Orav declared that it is not the EU's job to determine who should be involved in talks.
"We brought them together into a round table. We can't tell them what they should decide. This is up to them. We cannot even tell them if they should invite other political parties or anyone else", Orav said.
The demands of civil society and small political parties for involvement in the talks for the solution of the crisis comes at a time when talks have resumed with the brokerage of the German envoy, Johannes Haindl and the visit of the Assistant Secretary of State, Victoria Nuland, expected to take place on Monday. /balkaneu.com/