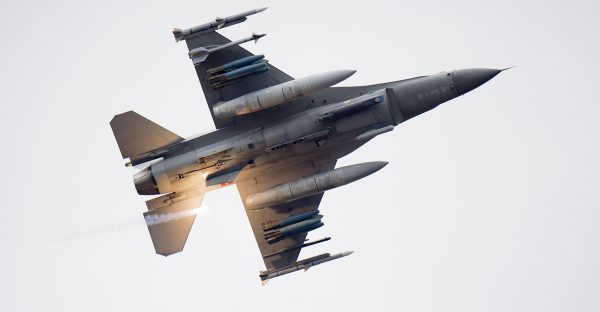 Volen Siderov, parliamentary leader of the United Patriots – the grouping of far-right and nationalist parties that is the minority partner in Bulgarian Prime Minister Boiko Borissov's government – has called into question the proposal for the country to buy US-made F-16 jet fighters.
In a show on his Ataka party's mouthpiece television channel, Siderov said that the proposal would be put to and approved by Borissov's Cabinet on January 9.
On December 21, Defence Minister Krassimir Karakachanov – also a co-leader of the United Patriots – announced that the committee that had examined the bids to supply jet fighters to Bulgaria had recommended getting the F-16s.
Siderov, on his TV channel and on Facebook, asked why Bulgaria was buying the F-16s, which he called the most expensive option, "given that the US has more than four military bases in Bulgaria for more than 12 years now?"
Siderov has long made an issue of the US-Bulgarian joint military bases. A few years ago, in a controversial incident, Siderov attempted to present the US ambassador of the time with a "bill" for the bases.
"Why is poor Bulgaria giving free military bases to the world's most powerful military force, and at the same time buying the most expensive fighters third hand?" Siderov said on Facebook.
He said that there was still no open discussion in the coalition on the deal to buy the new fighters.
Siderov posted a list of sums he said that other countries had paid to get F-16s. He said that each F-16 would cost Bulgaria 225 million leva, saying that Bahrain had paid 119 million leva, Israel 75 million leva and Poland 123 million leva, among others.
Siderov's post did not, however, list the model of F-16 in each case nor the wider terms of each deal.
He said that at a coalition council meeting "my question was why it is necessary to buy the most luxurious military goods and perhaps the most ineffective for defence.
"That is, if Bulgaria needs to defend itself, is it not better to give money to the army? My argument is that eight fighters will not increase the combat capability of the Bulgarian army, if such money is spent on equipment and armaments.
"The other thing I have said is that since we are pragmatists, why do we not calculate the rent of the Americans for 12 years and to see what we can get as military equipment," Siderov said.
In the majority partner in Bulgaria's coalition, both Borissov and GERB parliamentary leader Tsvetan Tsvetanov have spoken publicly in favour of the F-16s.
The recommendation has been sharply criticised by President Roumen Radev, a regular critic of the Borissov government and a former Air Force commander, while the opposition Bulgarian Socialist Party has said little. A day after the December 21 announcement, BSP leader Kornelia Ninova said that a decision on whether or not to buy the F-16s should be based on Bulgaria's national interest. It was too early to comment because the conditions for the purchase were not known, Ninova said./ΙΒΝΑ