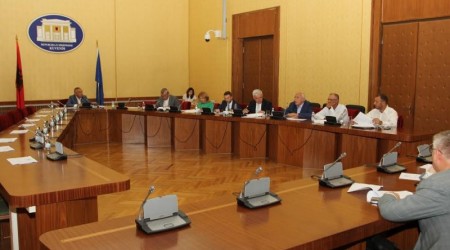 Tirana, August 29, 2014/Independent Balkan News Agency
The conference of the chairmen of parliamentary groups has gathered this morning in order to decide on the calendar of proceedings for the first three weeks of the new parliamentary session.
First, it was the law committee which discussed on the decrees sent back to parliament by president Bujar Nishani for deliberationt, the law on the Supreme Council of Justice, School of Magistrates, Administrative Court and Territorial Reform.
During the meeting, MPs overthrew the four decrees of the president. Meanwhile, the national security committee discussed the president's decree on the bill for the State Police, overthrowing it, after the initiator of the bill, Artur Cuko found nothing to review.
When he sent the bills back to parliament, the president of the Republic said that these bills violated the Constitution.
These bills have caused much debate in the political arena of the country, as the parliament majority accuses the president of taking the side of the opposition with the bills that he sent back to parliament for deliberation.
Meanwhile, the conference of chairmen also decided for the first parliamentary session after the summer holidays to be held on the first Monday of September. /ibna/