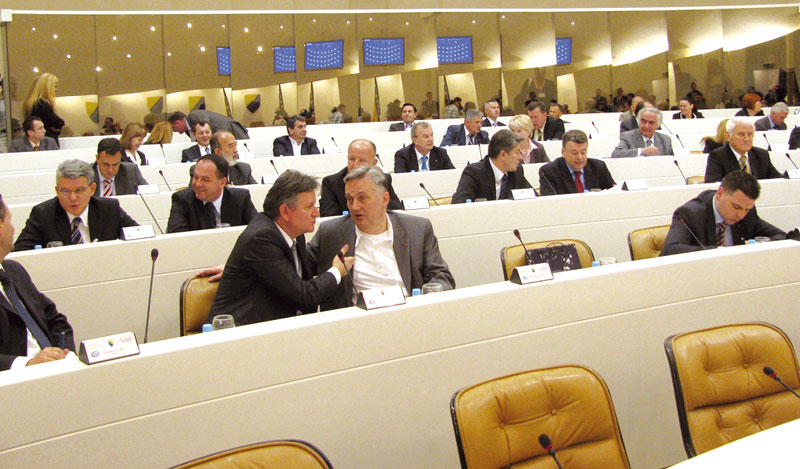 By Mladen Dragojlovic – Banja Luka
House of Representatives in Bosnia and Herzegovina Parliament rejected on Thursday the initiative for the removal of the Minister of Foreign Affairs in BiH Council of Ministers, Zlatko Lagumdzija.
The Initiative was submitted by delegates of the Alliance for a better future for BiH (SBB BiH). At first, they also demanded the removal of BiH Defence Minister, Zekerijah Osmic, but they withdrawn that motion during the session. After several hours of discussion, 13 delegates voted for Lagumdzija removal with 18 voting against. Five delegates refrained from voting. What's interesting is that the parties from the Republic of Srpska had different views, with delegates from the Serb Democratic Party (SDS) voting in favor of the initiative for his removal, but the delegates from the Alliance of Independent Social Democrats (SNSD) voted against it.
Lagumdzija is the leader of the Social democratic party (SDP) which, in April this year, supported the initiative of the Party of Democratic Action (SDA) for the removal of the BiH Minister of Security, Fahrudin Radoncic, who is the SBB leader. Radoncic was removed from position and SDP delegates had voted in favor of this decision.
Both initiatives, for Lagumdzija and Radoncic removal, were explainеd with arguments connected with citizens demonstrations in February. Radoncic was accussed pf not doing enough to stop demonstrators burning down several buildings of institutions in Zenica, Tuzla and Mostar. In Sarajevo demonstrators set fire in the BiH Presidency building and several other institutions. Similarly, SBB delegates explained the initiative for Lagumdzija's removal with the demands of demonstrators during the protests.
After the voting, Lagumdzija said that he is glad that nobody criticized his work as Minister of Foreign Affairs.
"I think that we all [politicians] got a big slap from BiH people in February. Who will be up for a battle, politically speaking, we shall soon see", said Lagumdzija, making an allusion on the elections scheduled for October this year.
Political analyst from Sarajevo, Almir Terzic, told IBNA that the initiative and discussion in BiH Parliament is a part of the electoral campaign. He stressed that the electoral campaign in various BiH institutions has not stopped since the last elections.
"In 26 months of work in BiH Council of Ministers there was five initiatives for its reconstruction, and it has been changed three times. Members of one party set initiatives for the removal of other parties members, probably to exact revenge for similar motion in the past. These changes and initiatives are making work in the Council difficult and are not good for BiH's image in international institutions", Terzic said.
He added that it is obvious that in election year the election campaign begins during spring in Parliament.