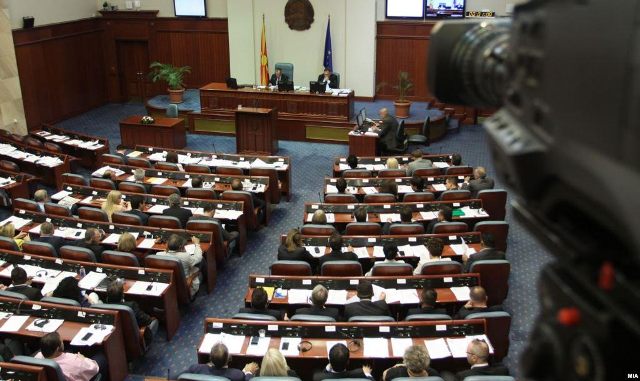 Skopje, 10 November 2015/Independent Balkan News Agency
By Naser Pajaziti
Parliament in FYR Macedonia voted in the early hours of the morning the legal package which is part of the Przino agreement and which aims at taking the country out of the political crisis.
The voting of this package was fast tracked and took place a few hours before the European Commission publishes the Progress Report on FYROM.
Following a debate which lasted several hours, lawmakers gave the green light to this package, which includes the electoral code, criminal code, law on the protection of privacy, law on the protection of whistleblowers, law on the changes in the government and the creation of the parliamentary inquiry committee which will investigate the wiretapping affair.
Based on the amendments of the law on the electoral code, the new State Election Commission must be appointed within 15 days. The law on privacy will not apply to the materials published so far in the wiretapping affair, but this law sanctions other surveillance materials in case they are misused by any of the parties or the media. If such material is revealed, then up to five years imprisonment  may be given as a sentence. The law on whistleblowers protects all those who offer information on criminal acts carried out in institutions.
A parliamentary session is expected to take place today to vote the ministers proposed by the opposition, who will be part of Nikola Gruevski's government. The general secretary of the opposition party, SDSM (Social Democratic Union) will be the new minister of Interior, while Frosina Remenska will be the new minister of Labor and Social Affairs.
The opposition will also be entitled to appoint several deputy ministers. This involvement of the opposition complies with the political agreement and this government will remain in office until the new elections which will be held on 24 April 2016. But at the end of the year, PM Nikola Gruevski must resign and he will be replaced by a candidate proposed by the largest party, VMRO-DPMNE.
The legal package of the Przino Agreement has been conditioned by Brussels.
Diplomatic sources warned that even this time, FYROM will receive a conditional recommendation for the launch of talks with the EU, but only if the country votes these bills and continues their implementation until the 24 April 2016 agreement, which will be decisive for the future of the country. /ibna/