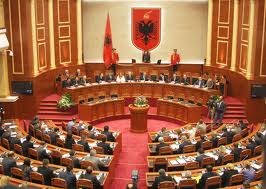 Tirana, April 29, 2013-During today's parliament session, in the absence of socialist MPs, the majority ratified with 71 votes the enquiry commission, which will investigate the incident taken place in Vienna between the chairman of the Socialist Party, Edi Rama and the diplomat Egin Ceka.
This committee will be chaired by Fatbardh Kadilli and will have members from the right wing, while the Socialist Party has not made any proposals.
During her speech before the voting, the speaker of parliament, Jozefina Topalli declared that this committee will have a one month term and it will aim to shed light upon the incident taken place in Vienna.
The Albanian Ministry of Foreign Affairs and the majority have declared that during the incident taken place in the Diplomatic Academy of Vienna, Mr. Rama had pulled Mr. Ceka from the ear after a debate on the problems of the Albanian diplomacy. /ibna/