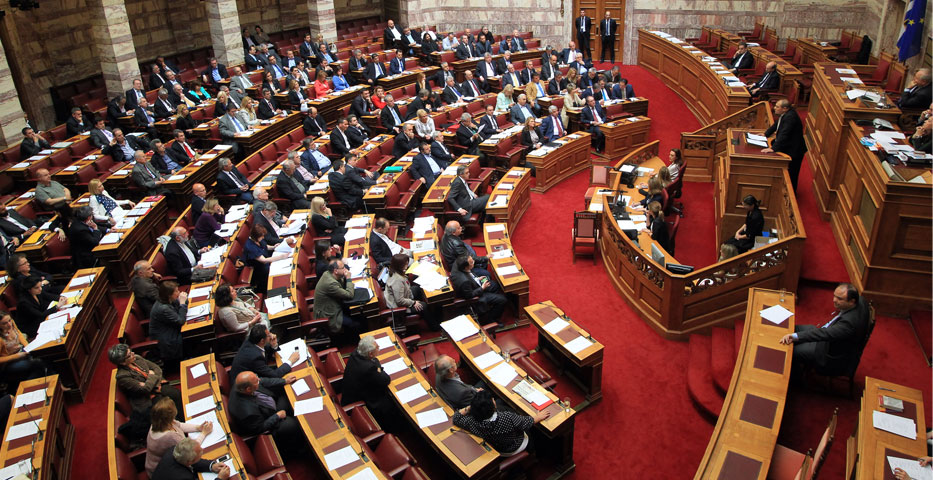 The set of measures recently agreed between the Greek government and its international creditors will be put to a vote in parliament on 18 May, the President of the House, Nikos Voutsis, revealed.
The President told reporters on Monday that a relevant bill will be tabled in parliament on 15 May and will be voted on following a three-day debate.
Athens would optimally like to see a Eurorgroup meeting scheduled for 22 May rubber-stamp the conclusion of the second review of the latest Greek bailout program. Subsequently, another bailout loan tranche would be disbursed to Athens.
Nikos Voutsis predicted that coalition government MPs will back the technical agreement reached with the country's creditors. He said all 153 Syriza and ANEL parliamentarians are certain to vote in favor of the measures being introduced. The President of the House added that he expected the main opposition New Democracy party to soon face a political problem following its leader's decision not to back the so called countermeasures that will be legislated to offset austerity, should the economy remain on track in coming years.
Another prominent government member, Deputy PM Yannis Dragasakis, also defended the agreement the Tsipras administration reached with creditors at the Eurogroup meeting in Malta last month. Dragasakis said the government is putting Greece on track to exit the crisis, and the bailout programs that accompany it, in 2018.
Speaking at a conference on Monday, the Deputy PM pointed out: "The agreement on the second review – if, as expected, it is concluded including measures to address the debt issue – creates the conditions for the country's participation in the ECB's quantitative easing program and a testing of the markets in 2017 […] It unlocks the procedures for the final end of the memoranda and supervision in the summer of 2018."
Dragasakis also touched on the "countermeasures" that are included in the agreement with creditors. He accused the opposition parties of ignoring the fact that the countermeasures "address real social issues" and of siding with the "irrational demands of the creditors" at crucial moments in the negotiations that took place in the last few months./ΙΒΝΑ