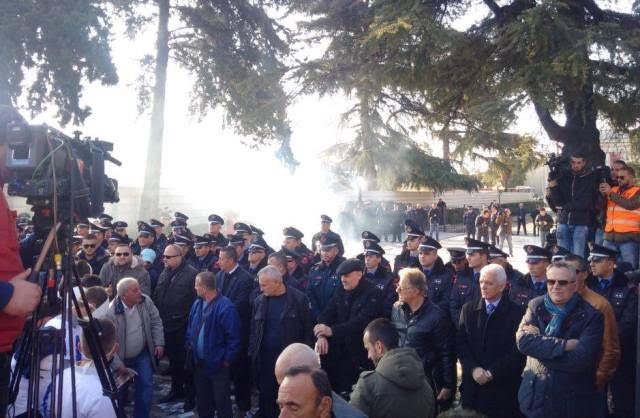 Tirana, 17 December 2015/Independent Balkan News Agency
Eggs, tomatoes and even stones have been thrown by protesters and supporters of the Democratic Parliament toward the parliament building on Thursday, thus marking the start of the protest that was announced a while ago.
The protest, which was chosen to take place on the occasion of the start of parliamentary debate on next year's budget, aims, according to opposition leaders, force Rama's government to resign and for a technical government to be formed, which would take the country to early elections.
Protesters held banners on their hands, remembering their hero, Azem Hajdari, but also banners against PM Edi Rama. "Edi Rama, we will hang you on the rope", "Edi Rama, northern will decide your doom".
Mr. Rama himself was seen walking into the house of parliament along with Spartak Braho MP, with whom he was holding a friendly conversation.
Inside parliament, former PM Sali berisha delivered a speech to encourage protesters and launched threats against the PM. "We demand MPs to introduce in the day's agenda the demands of the revolted people. It would be a fatal mistake if today, we don't reflect in these parliamentary proceedings, the deep revolt that invaded every street of Tirana against this budget and against this man who has turned the government into a criminal organization", Mr. Berisha said amongst others.
"It would be good if we take into account their demands, otherwise, the democratic revolution will not stop. This revolution will do the sons, the same thing it did to their fathers 25 years ago", Berisha said.
Budget debates start, tension in the session
Meanwhile, parliamentary debates have kicked off. Former PM Sali Berisha demanded from parliament to urgently approve a resolution which lifts medals for those "who have committed crimes against Albanians".
Democrat MPs have appeared in front of their supporters who have gathered in front of parliament and are delivering speeches in order to raise the morale of the protesters.
Former parliamentary speaker, Jozefina Topalli has called for unity against the mob governing the country, as he considered Rama's government.
"How is it possible that Serbia launches EU accession talks and we haven't, while we aspire more than them to become EU members? There's only one way. Edi Rama will never allow free and honest elections. Therefore we must be prepared for a strong protest and a peaceful one in front of the Council of Ministers building and in front of parliament, to say 'Go!'", Topalli said. /ibna/