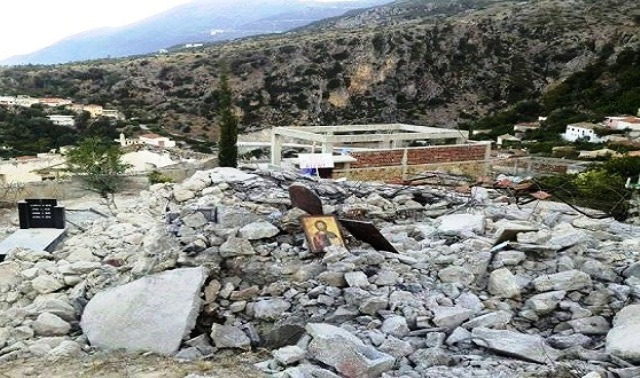 Tirana, 16 October 2015/Independent Balkan News Agency
The demolition of the so called Church of Dhermi has been brought up in the Albanian parliament during the weekly proceedings. Former ally of the governing coalition, the leader of PBDNJ, Vangjel Dule, had demanded a hearing with PM Edi Rama.
"I don't understand how a religious object can be demolished in our country. I could never fathom that such moment would come. I would like to know the legal basis for the demolition of the church", Dule said, recalling Athens' reaction and the reaction of European institutions. Leader of PBDNJ said that he could not believe that such thing would happen in a country like Albania.
But, Prime Minister Edi Rama declared that his government has not ruined any church. "The ruined edifice, for which you and many others made so much noise, is not the martyr church of "Shen Thanas" and it has never been a church. Church canons teach us that every cult object deserved to be called a church. That edifice has never been secured based on the regulation of the Church Authority. The object of this hearing is nil, because the Construction Inspectorate has not ruined any churches. That was an edifice, garage or stable without permit, built during the individual brutality of the '90s", Rama said.
The head of the government said that the majority of residents there agreed on the demolition of this object.
The debate between Rama and Dule continued for around an hour, but besides the different viewpoints on this event, it also reflected the tense relations between them, which led to PBDNJ's departure from the government coalition. /ibna/