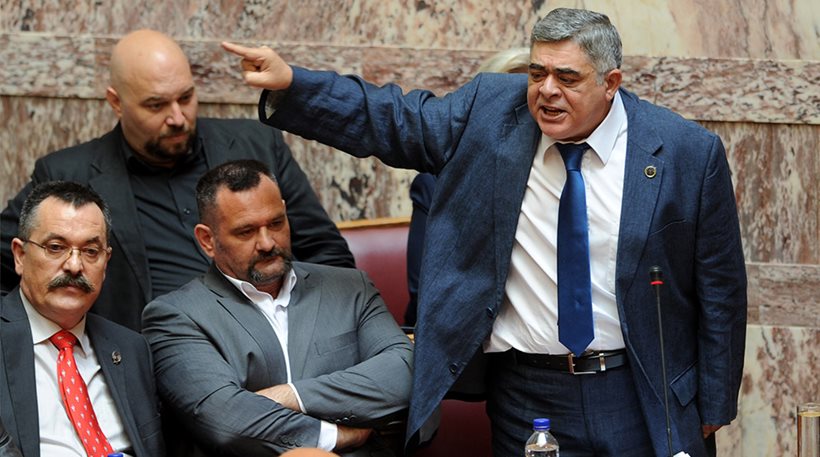 By Lefteris Yallouros – Athens
Greek MPs decided the lifting of immunity of Golden Dawn leader Nikos Michaloliakos and deputies Christos Pappas and Yannis Lagos with an overwhelming majority on Wednesday.
Immunity was lifted for Nikos Michaloliakos, Yannis Lagos, and Christos Pappas with 223 votes in favor, and one MP voting present.
All three Golden Dawn MPs already faced charges of forming criminal ring. On Wednesday, additional charges were brought against the trio. Michaloliakos and Lagos were charged with illegal bearing of arms while Pappas – the party's number two – was charged of creating an illegal archive as Nazi literature was found in his home by police.
Golden Dawn members were transported from prison where they are currently being held prior to them appearing in court, to participate in proceedings.
The neo-Nazi party members took the opportunity to deliver political speeches rather than defend themselves against charges during a Parliament session that was marred by verbal assaults against the government and several MPs.
Outside the Parliament building, around 300 Golden Dawn supporters gathered to protest against the imprisonment of the party's MPs. Some managed to enter the building before eventually being turned away by police.
On his arrival at Parliament from Korydallos prison, Michaloliakos declared himself "the leader of the country's third party." Appearing in Parliament for the first time since he was jailed pending trial eight months ago, Golden Dawn leader Nikos Michaloliakos said government members were "guilty of a political frame-up."
The Golden Dawn MPs stressed that they have been in contact in the past with the Prime Minister's press officer, Giorgos Mouroutis, and with two New Democracy MPs. The claims aimed to create a government crisis similar to the one caused when GD spokesman Ilias Kasidiaris had revealed he was in close contact with the PM's aide, Panayotis Baltakos, who was eventually sacked. The accusations were refuted by Mouroutis and dismissed as ludicrous by the New Democracy spokesperson.
Eventually, Golden Dawn MPs withdrew from the proceedings before the vote as Ilias Kasidiaris maintained that proceedings were void, due to the 90 day period that parliament had as a deadline for lifting immunity had passed.