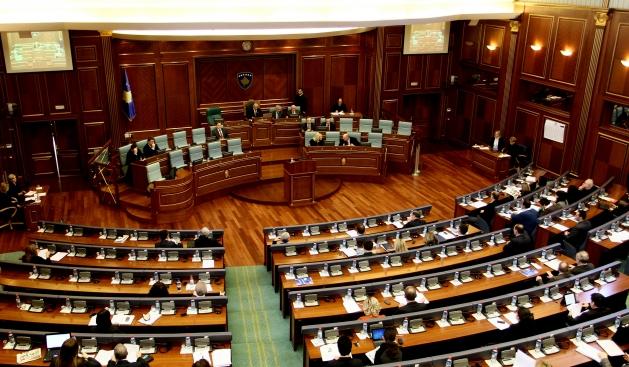 Pristina, April 3, 2014/Independent Balkan News Agency
By Elton Tota
With 64 votes in favor and 18 abstains, parliament of Kosovo has approved the bill on the general elections. This bill was voted twice, as the first time, not all MPs were present.
The bill was voted without the presence of the MPs of the Democratic League of Kosovo and with the abstain of Self Determination MPs. Although MPs supported the Bill on General Elections in the Republic of Kosovo in principle, they said that they are worried about it. They mentioned the issue of the composition of electoral lists, mandatory threshold on independent candidates and other issues.
Vice chairman of Democratic Party of Kosovo (PDK), Arsim Bajrami  has supported the bill during this debate, but he stressed the fact that Kosovo is entering these elections without a proper reform.
"PDK offers its support in principle. We're aware that this bill is not a substantial reform which Kosovo needs", declared Bajrami.
Self Determination MP, Albulena Haxhiu said that the law committee has "smuggled" article 108b, which talks about the division of seats in parliament. She said that this article has arrived in parliament without being voted in the committee beforehand.
"Article 108b for the division of seats has been 'smuggled'. This is an attempt to degenerate parliament in order to satisfy PDK's appetite. As a result of this, we will abstain in this phase", said Haxhiu MP.
The head of the law committee, Arben Gashi immediately reacted.
Gashi said that Haxhiu's declarations are speculative and that her party "is responsible for the three week delay of the law".
"As far as her declaration is concerned, it's a mere speculation. The variant has been discussed in the ad hoc commission. It appears in all the correspondence of the committee and it has also been voted. Such declaration is a disgrace. She's personally to be blamed about the 3 week delay of the bill", added Gashi.
Albulena Haxhiu reacted by saying that LDK has delayed the bill for three years in a row.
"Mr. Gashi is saying that Self Determination is to be blamed about the fact that the bill has been delayed for 3 weeks, but this is untrue, because it's been three years that you have voted sometimes in your own interest, sometimes in the interest of PDK. As far as the formula for the division of seats is concerned, the only time when it was discussed was in the framework of a work group", said Haxhiu MP.
She proposed for the ballot counting process to be carried out in the communal center.
Alliance for a New Kosovo MP, Myzejene Selmani has backed this proposal by saying that this is a way to prevent manipulations.
Meanwhile, Ardian Gjini from the Alliance for the Future of Kosovo (AAK) said that although there are no significant amendments in the bill, AAK will vote in favor.
"It would be nonsense to block the law now. As a parliamentary group, we will vote it, but it seems that even this law will not change anything in Kosovo", said Ardian Gjini from AAK. /ibna/