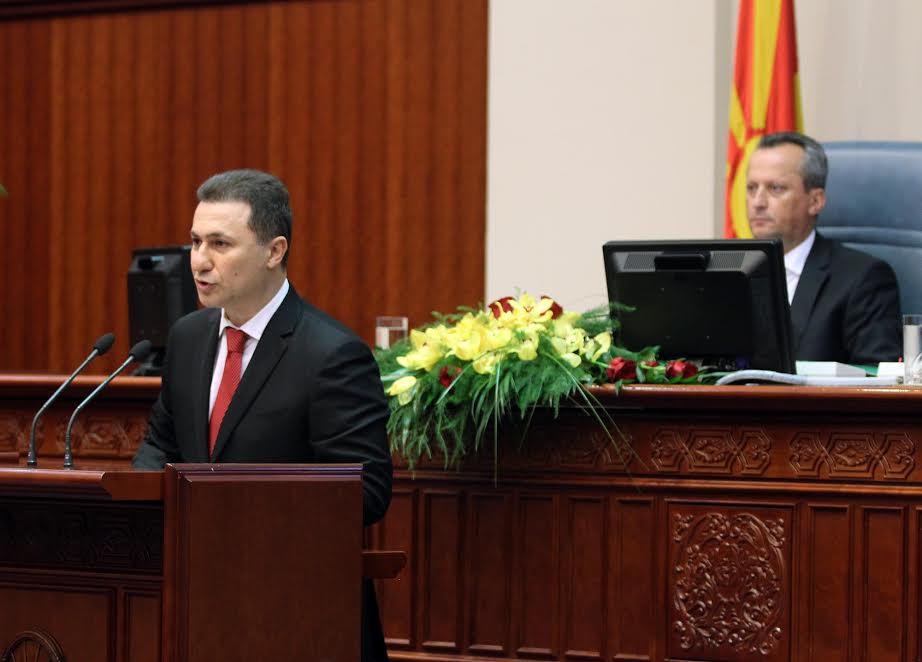 Skopje, June 19, 2014/Independent Balkan News Agency
By Naser Pajaziti
With a majority of votes, MPs in former Yugoslav Republic of Macedonia voted today the new government of the country led by Nikola Gruevski, leader of VMRO-DPMNE.
Out of 123 MPs, 77 of them voted in favor of the new government, 6, from the Albanian party in opposition, PDSH (Albanian Democratic Party), voted against.
Meanwhile, Macedonian opposition was not present in parliament as a result of the boycott and the refusal to recognize the elections.
In his speech, prime minister Nikola Gruevski said that the priorities of the new government will consist on the: economic growth and employment, integration in the EU and NATO, fight against crime, good neighborly relations and development of education.
The new government coalition consists of 26 ministers from two parties, VMRO-DPMNE and Albanian party BDI (Democratic Union for Integration). This is Gruevski's third term in office since 2006, when he took power.
Nikola Gruevski – kryeministër
Zoran Stavrevski –deputy prime minister and minister of finance
Musa Xhaferri – deputy prime minister for the Ohrid Agreement
Fatmir Besimi – deputy prime minister for European integration
Vladimir Pesevski –deputy prime minister for economy
Gordana Jankulovska- minister of interior
Nikola Popovski – minister of foreign affairs
Zoran Joleski – minister of defense
Adnan Jashari – minister of justice
Bekim Neziri – minister of economy
Nikola Todorov – minister of health
Mile Janakievski – minister of transport and communication
Abdilaqim Ademi – minister of education
Dime Spasov – minister of labor and social policies
Mihail Cvetkov – minister of agriculture
Elizabeta Kançeska – Milevska – minister of culture
Lirim Shabani – minister of local government
Nurhan Izairi – minister of environment
Ivo Ivanovski –minister of the society of information and administration
Ministers without portfolio
Visar Fida
Vele Samak
Bil Pavlevski
Dzeri Naumov
Goran Mickovski
Nedzdet Mustafa
Furhan Çako