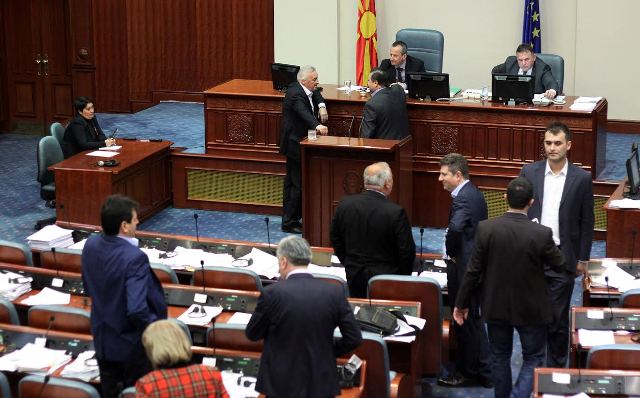 Skopje, 7 April 2016/Independent Balkan News Agency
By Naser Pajaziti
Parliament in FYROM dissolved last night before midnight for the holding of early elections on June 5.
Speaker of Parliament, Trajko Veljanoski declared the dissolution of parliament in accordance to the decision of 23 February agreed by the four parties that signed the agreement for the solution of the political crisis.
The largest opposition party, SDSM (Macedonian Social Democratic Union) said that it will boycott the June 5 elections, as the conditions to hold free and democratic elections have not been delivered. The leader of this party, Zoran Zaev said that the conditions for free elections have not been met because the list of voters was not adjusted and the reform in the media was not approved.
"Without elections there is no freedom. It has been months that we are fighting for free and democratic elections. The Przino agreement was signed to guarantee this. Gruevski has constantly evaded the implementation of this agreement. In the name of principles and democracy, SDSM will not participate in these elections", Zaev said.
According to him, the current majority has evaded the implementation of the agreement and that it is doing everything to remain in power.
The two Albanian parties, BDI and PDSH are in favor of the June 5 elections. The heads of parliamentary groups of these two parties were in parliament when parliamentary speaker, Veljanoski declared the dissolution of parliament. Other opposition parties have declared that they are against the holding of the elections. /ibna/