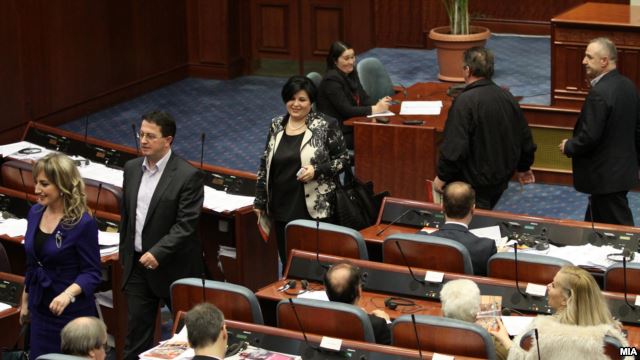 Skopje, March 5, 2014/Independent Balkan News Agency
By Naser Pajaziti
With 117 votes in favor and no votes against, parliament of FYR Macedonia was dissolved today (05.03). The incentive to dissolve parliament was launched by the biggest Albanian party in power BDI (Democratic Union for Integration), as this party could not reach an agreement with its coalition partner, VMRO-DPMNE for a joint presidential candidate, which would be acceptable for Macedonian and Albanian ethnics.
The incentive for the dissolution of parliament was backed by all majority and opposition parties. Before the voting, MPs have expressed their stands on this incentive. Opposition MPs launched criticism against the majority of VMRO-DPMNE and BDI.
"United like never before, MPs voted for the dissolution of this parliament", said the speaker of parliament, Trajko Veljanovski.
BDI lawmaker, Nexhati Jakupi justified the stance of his party according to which, the failure to back the proposal for a consensual candidate was the reason for the incentive to dissolve parliament and to send the country to early parliamentary elections. "After these elections, political parties that will win legitimacy, will strike deals for the next governing coalition. Based on this, BDI assesses that there's a need for citizens to reconfirm political mandates of the parties", said Jakupi MP.
Igor Ivanovski from LSDM (Social Democratic League) said that this situation was caused by the partners of the current majority coalition. "Your game ends today and the citizens will have their say now. Citizens must have their right to vote without fear and pressure in order to elect the best politicians for Macedonia", said Ivanovski.
VMRO-DPMNE lawmaker, Silvana Boneva said that her party accepts early elections, but it has never accepted bargaining at the detriment of the national interest.
These are the third early elections announced by this government. The first ones were announced in the spring of 2008 and the second ones in 2011. The current parliament has entered its 3rd term and held 87 sessions. Upon the dissolution of parliament, early parliamentary elections are expected to be held on April 27, during the second round of presidential elections. /ibna/