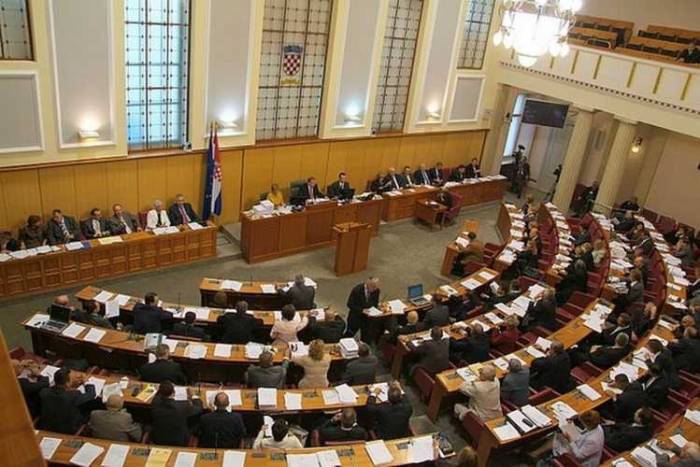 By Marija Avramovic – Zagreb
Croatian Parliament unanimously adopted today the Declaration on the decision of the International Criminal Tribunal for the former Yugoslavia (ICTY) on the release of Vojislav Seselj from the detention center in Hague.
"Besides the verification of the important historical and legal facts, we ask the ICTY to revoke the decision on release of Seselj, because he has not changed his ideas and views; he humiliates victims, intimidates victims and witnesses. This is further killing and mutilation. UN Security Council must take into account our declaration", independent MP Jadranka Kosor who initiated the declaration said.
The Parliament called today the UN Security Council to urgently discuss the actions of the ICTY in this case, so that the confidence in the international institutions wouldn't be undermined because they were set up as promoters of the rule of law, founders of justice, peace and stability as common values.
The Declaration stresses the obligation of the Republic of Serbia, as a candidate country for EU membership, to unequivocally condemn all hate speech, the project of "Great Serbia" and the redrawing of internationally recognized borders, in accordance with the values of international law and democratic standards that apply among the states of the EU.
Gordan Jandrokovic, MP from Croatian democratic union (HDZ) pointed out that in the case of Seselj  three important elements were shown: demonstration of the lack of credibility of the Hague Tribunal and Serbia and mild reaction by Croatian executive power.
Regardless of this, HDZ supported the declaration and asked for the government to be committed so that until December 10 it would submit to Parliament a report on the establishment and management of Croatian foreign politics, but the Parliament did not accept this proposition.
There is no doubt that some are using this declaration as another way of internal political struggle, considering that somehow, in the end, all international issues are turned into internal political issues, where each party with criticism or praise wants to get political points.