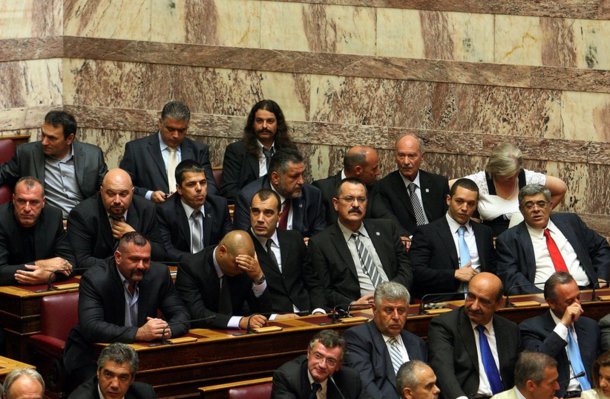 Athens, March 31, 2015/ Independent Balkan News Agency
By Spiros Sideris
"Problematic", described the Minister of Justice Nikos Paraskevopoulos the circumstances of the trial of the Golden Dawn in Women's Prison of Korydallos, but said "it is difficult to find an alternative".
The was issue raised by the relevant question of the MP of SYRIZA Vasiliki Katrivanou speaking of a "flagship trial in defending the Republic against violence and neo-Nazism". "This is a historic trial and it must be conducted in the best possible way", she said, accusing the Golden Dawn that "in previous trials, the place of the trial was inundated by its members who terrorized and taunted witnesses and journalists, affecting the course of the trial". Katrivanou described the prison of Korydallos as inappropriate, favouring the need the trial be conducted "in the center of Athens", as well as to have direct access to the proceedingsrecords.
Paraskevopoulos shared arguments of the SYRIZA MP recognising that it is a trial extreme in terms of size, with such a large number of defendants. However, he said the country was found unprepared in terms of infrastructure, and said that preparations had begun when Athanasiou was minister and although he had brought the matter to the President of the Administrative Council of Appeals, to allocated another space, the answer he received was that the competent tripartite Board of Appeal ruled that the trial will take place in the hall of the female prison of Korydallos.
"Despite the problems changing the room is not possible", the minister said, stressing that they have provided for 153 seats for the public and 128 seats for lawyers, while in the next room will be the venue of journalists.
He also said that if during the trial there is an issue if or if there is an inability to conduct the trial and there is a postponement, the Justice Ministry will take responsibility to look for another place.