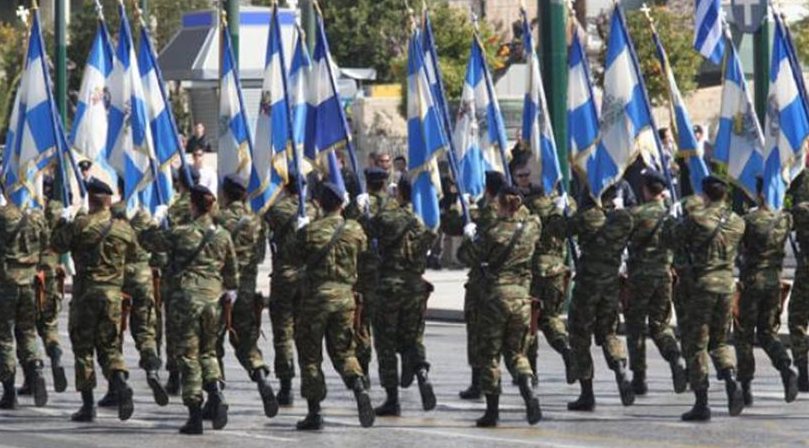 Athens, October 29, 2015/Independent Balkan News Agency
By Spiros Sideris
With the military parade in Thessaloniki and the student parade in Athens culminated the events for the anniversary of October 28, 1940 when the Greeks responded with a "NO" against the Italian troops of Mussolini and Axis, writing brilliant pages of glory in the book of history.
The military parade in Thessaloniki, in the presence of the President of the Republic, Prokopis Pavlopoulos, was held without railings, after the reaction of the Deputy Citizen Protection Minister Nikos Toscas.
The citizens took positions near the deck of official and along the route, where they watched the parade of walkers and motor civil and military departments, while on the air fighter jets and helicopters flew in impressive formations.
The military parade attended the Minister of Defence, Panos Kammenos.
Earlier, President Pavlopoulos had laid a wreath at the memorial of the Third Army Corps. After the parade he visited the hospital Papageorgiou and then departed for Athens.
Before the Minister of Education and Religion Nikos Filis, took place in Syntagma Square the established school parade on the anniversary of the "No".
Pavlopoulos: Unbreakable unity to achieve the national objectives
To unbreakable unity, in order for the national objectives to be achieved called on citizens the Greek President, Prokopis Pavlopoulos, in his statement after the military parade in Thessaloniki.
"The pan-Hellenic "No" of October 28, 1940 is an inexhaustible source of inspiration to the nation of the Greeks, especially in the current critical circumstances for the country and our people. What inspires us above all is that the Republic, and its twin sister Freedom, compose our collective consciousness across time, with key ingredients being education and courage", he said, and added, "with these historically supplies and unbroken unity, we have a duty to pursue and achieve our national goals, notably to defend man, the rule of law and social justice".