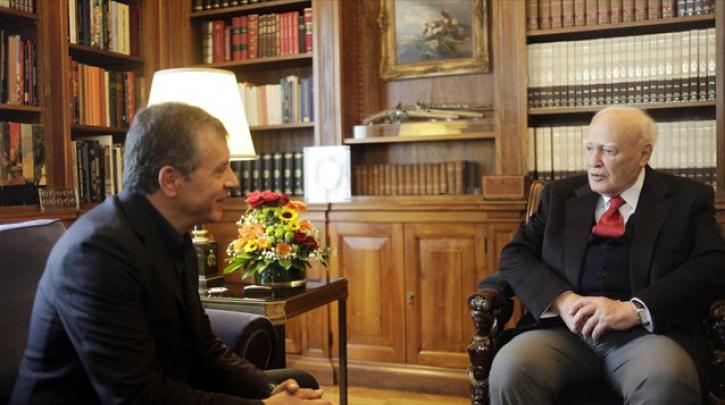 By Spiros Sideris – Athens
Greek President Karolos Papoulias expressed his hope that the Greek Parliament will achieve the required majority that would allow the election of the next President, during his meeting with Stavros Theodorakis, in his first intervention on the issue of the presidential election.
"I hope to be elect a President of all the Greeks, who will unite all the Greeks. This is the role of the President, since it has no other responsibilities. Everything else can be resolved", Papoulias said.
After the completion of the 45-minute meeting with Karolos Papoulias, the head of the river Stavros Theodorakis, proposed that political parties agree to hold elections in November 2015, after this parliament has elect the new President of the Republic, has initiated the procedures for the changes in the Constitution, the changes in the electoral law and a patriotic, as he described it, position on the issue of settlement of the debt is agreed upon.
The reason he proposed November of 2015 as the date of the elections is so that it would not "break" the 2015 tourist season, as tourism is the only, currently, productive source of revenue for the country.
Theodorakis explained that this House should elect a President of the Republic by a large majority.
"It would be a shame to elect a President with 120-130 MPs, because then nobody will respect him", he said.
Earlier, in a few minutes conversation with the President, in the presence of journalists, Theodorakis said that such an event would defeat for the parliamentary system.
On the revision of the Constitution, the head of the "River" said that it is necessary to change the provisions on immunity of ministers and MPs, as well as Article 110, which states that the revision of the Constitution takes place every five years and to enable changes by Article at any time.
For the electoral law, Theodorakis said that unless the other parties accept the proposal for the introduction of a variant of the german electoral system, proposed by the River, there should be made corrections to the existing one, such as the "breaking the regions".
He also called for the formation of a patriotic team – a geek one and not of ND, SYRIZA or someone else's – that would negotiate with the lenders.