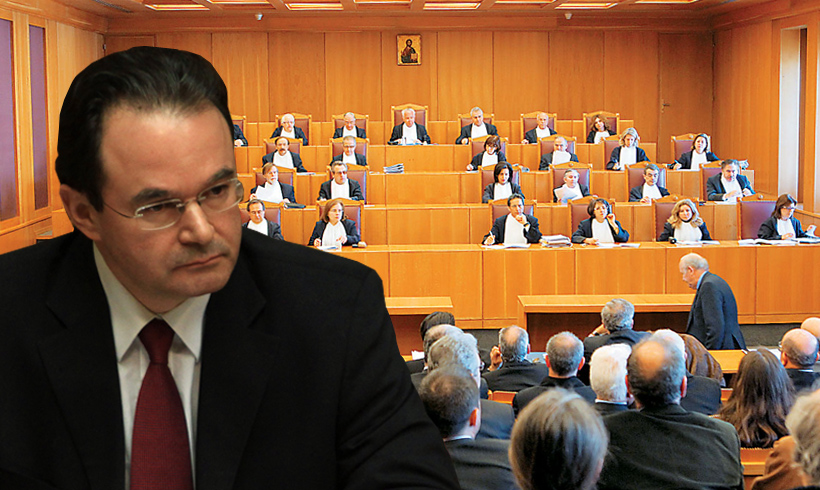 Athens, March 25, 2015/ Independent Balkan News Agency
By Spiros Sideris
To one year imprisonment with three-year suspension was sentenced by the Special Court the former Greek Finance Minister Giorgos Papakonstantinou. The court ruled by majority, with six of its members wanting to impose a three-year sentence.
The President of the Court, closing the hearing, turned towards the former minister and said: "The court has exhausted its leniency in your case. I wish this to be a guide for the future, but I realise you have given up on politics". He also urged the former minister: "during the three-year suspension period be very careful and not commit another offense so as not to revive the imposed sentence".
"Go and sin not…", were the last words of the President of the Court.
The Special Court decided the guilt of former minister Giorgos Papaconstantinou on the case of the Lagarde list after about a 30-day hearing.
The President of the Court, Nicholas Passos, who conducted the trial in an exemplary manner, announced the decision with the words "the moment of truth has come".
The court unanimously found the former minister innocent for the offense of attempted infidelity.
The Special Court declared guilty by majority the former minister for the crime of document falsification, that is for deleting the files with the three accounts of his relatives from the Lagarde list to preserve, as the President explained the rationale of the Court, his political image.
Five senior judges were of the opinion that the former minister should also be declared innocent for the falsification charges, but they were a minority.
However, three of them voted that he be declared guilty of falsification as a felony, two members of the Council of State expressed the view that the disputed cd list cannot even be considered a document by law and therefore they were in favour of the exemption of the former minister.
The judges who ruled in favour of a guilty verdict were of the opinion that the deletion of the files were made by the former minister to preserve his political image, while those three who were in favour of a felony ruling expressed the view that the three files were also deleted so that his relatives wouldn't have to pay the corresponding taxes.