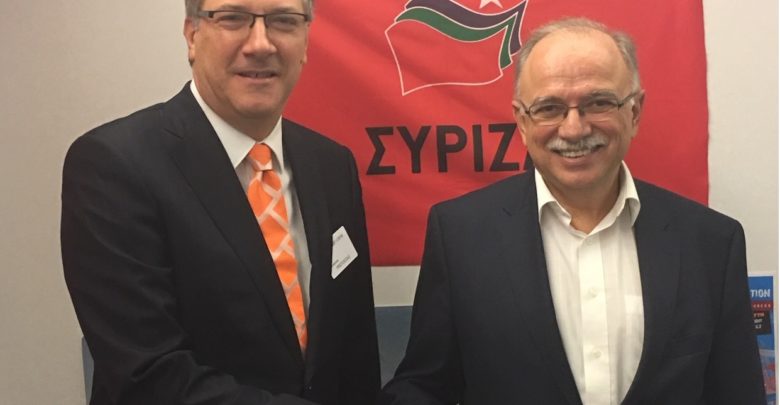 The Vice-President of the European Parliament and Head of the Eurogroup of SYRIZA Dimitris Papadimoulis met with Deputy Foreign Minister of fYROMacedonia Andrej Žernovski in Brussels and exchanged views, in view of the forthcoming Constitutional Review in fYROMacedonia in January, as stipulated in the Prespes Agreement.
Andrej Zernovski thanked Dimitris Papadimoulis for his constructive contribution during his recent two-day official visit to Skopje, within the framework of the Joint Parliamentary Committee of the European Parliament and the Parliament of fYROMacedonia, which had taken place shortly before the crucial referendum of 30 September.
Dimitris Papadimoulis, for his part, highlighted the convergences in the analysis of the situation between the governments of the two countries and the proposals made during the debate.
IN the meeting there was also discussion of bilateral relations and the overall situation in the Balkans, as the Prespes Agreement and its implementation will give new impetus to regional cooperation and development in Southeastern Europe, according to the Greek MEP.
As Dimitris Papadimoulis noted, the climate is constantly improving in Greece and fYROMacedonia, and the EU's interest in accelerating the European course of the under accession countries gives a new dynamic to the region.
"Greece, emerging from a painful economic crisis, has shown that it is a pillar of stability and growth in the region", concluded the Vice-President of the European Parliament./IBNA