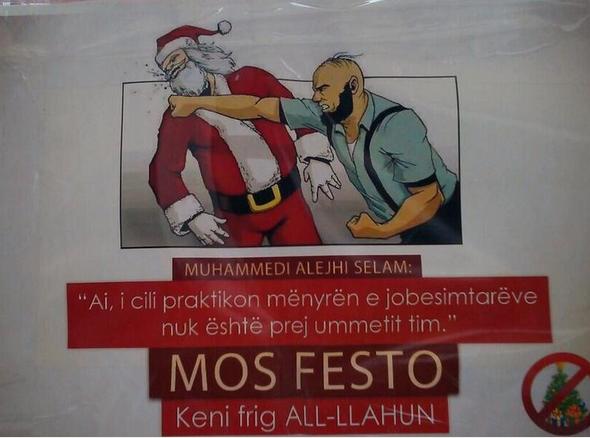 Skopje, December 18, 2013/ Balkan Independent News Agency
A part of Skopje, namely the quarters of Çair and Butel have woken up today with posters showing Islamic messages appealing for the end of the year holidays not to be celebrated. "Do not celebrate, fear Allah", is written on the posters with photos showing Santa Clause being punched.
This propagandist material invites the Muslim population not to celebrate the end of the year holidays and New Year, while those who celebrate them are considered as infidels and anti-Muslims.
The posters also appeal for the Islamic New Year to be celebrated, as it marks the time when Mohamed left Mecca to go to Medina. Muslims celebrate the New Year on November 9.
The majority of people say that they are surprised by these pamphlets, which are being used for different purposes in extreme religious circles.
"The end of the year holidays, in the current circumstances, is something normal and it brings a festive atmosphere as we leave behind the old year and enter the new one. This atmosphere is marked by celebrations for a better new year. This is the scope of the celebrations which take place in the entire world and here in our country", says Blerta Sinani from Skopje. Some non government associations in Skopje have declared that they are not behind the distribution of these propagandist materials. /ibna/