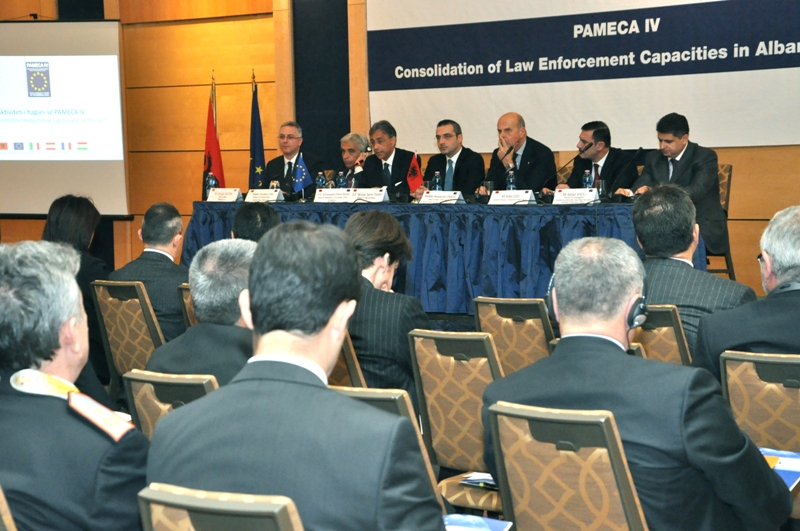 Tirana, December 11, 2013 / Balkan Independent News Agency
EU police assistance mission to Albania, PAMECA-4, will fund € 4  million to bring the law enforcement capacities of the Albanian institutions (in particular Albanian state police and Prosecutor) closer to EU standards.
The fourth term of PAMECA will bring Italian, French, Austrian and Hungarian expertise to improve the performance of the Albanian State Police in guaranteeing public order and security, integrated border management, and fight against corruption and organized crime.
Guaranteeing the rule of law is a pre-requisite for EU membership and a fundamental component for a democratic and just society.
Addressing participants at the event (photo), the Head of the EU Delegation to Albania, Ambassador Ettore Sequi emphasized:
"The EU remains committed to helping Albania in strengthening its legislative and operational capacities and offers its continuous support for the effective implementation of the Rule of Law, but it is time we see real track of records in the fight against organized crime and corruption".
Ambassador Sequi also noted that "a country which aspires to integrate in the European Union should rely on credible, ethical and professional law enforcement and judicial services to provide safety and security to all its citizens and not on an ill system".
PAMECA has cost more than 17 million Euros spent on trainings and capacity improvements, equipment and infrastructure.
Complementing PAMECA, the EU has set up 10 more border crossing points and renovated 17 border police stations in Albania costing €6 million, and has granted another €3.5 million to provide 8 high-speed modern patrol vessels for the Albanian police and customs to effectively control the blue border. /ibna/