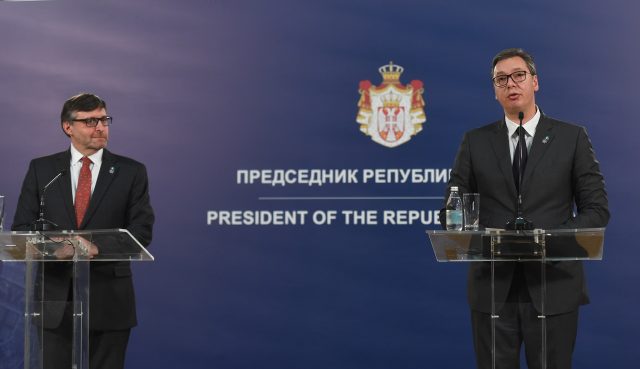 State Department special envoy for the Western Balkans, Matthew Palmer, said that the United States wants the Western Balkans to have a European perspective, and he said he would try to persuade the European Union.
He made the comments at a press conference in Belgrade after meeting with Serbian President Alexander Vucic.
Palmer said they discussed with the Serbian president the current political situation, not only in Serbia, but throughout the region.
"This is really important, especially after the European Union's failure to find a compromise regarding the opening of accession talks with North Macedonia and Albania. In our opinion, this was a historic mistake and this is a bad message for the whole region", Palmer said, noting that the United States is interested in looking at the Western Balkans in the European perspective.
"United States supports the European perspective of the Western Balkans and that it will do everything in its power to convince EU to change its position before the meeting of the leaders in Zagreb in May next year", he said.
Palmer also called for respect for the election results in Kosovo, where the Serbian List received the support of the majority of Kosovo Serbs and the right to represent them in government. He said he had discussed this issue with Kosovo's leaders, including Albin Kurti.
Meanwhile, Serbian President Aleksandar Vucic said he appreciates the US support for Serbia 's European path. He said that on the issue of Kosovo, the positions between the two countries continue to be different and that, according to him, Belgrade wants serious talks with Kosovo that would lead to a compromise solution.
"I believe that, with regard to Kosovo, the conditions for continuing the dialogue will soon be met. When I say soon, in two or three months, the conditions will continue for dialogue. We want the dialogue to be serious, to be responsible, to lead to a compromise solution", he said.
The Serbian president said that "the Albanians and part of the international community who are pressured to force Serbia to accept something contrary to its national interests" are mistaken.
Mathew Palmer visited Serbia following his visit to Kosovo, where he said that "resolving the issue between Kosovo and Serbia through full normalization remains a strategic priority for the United States" and that he feels the need to do so faster./ibna