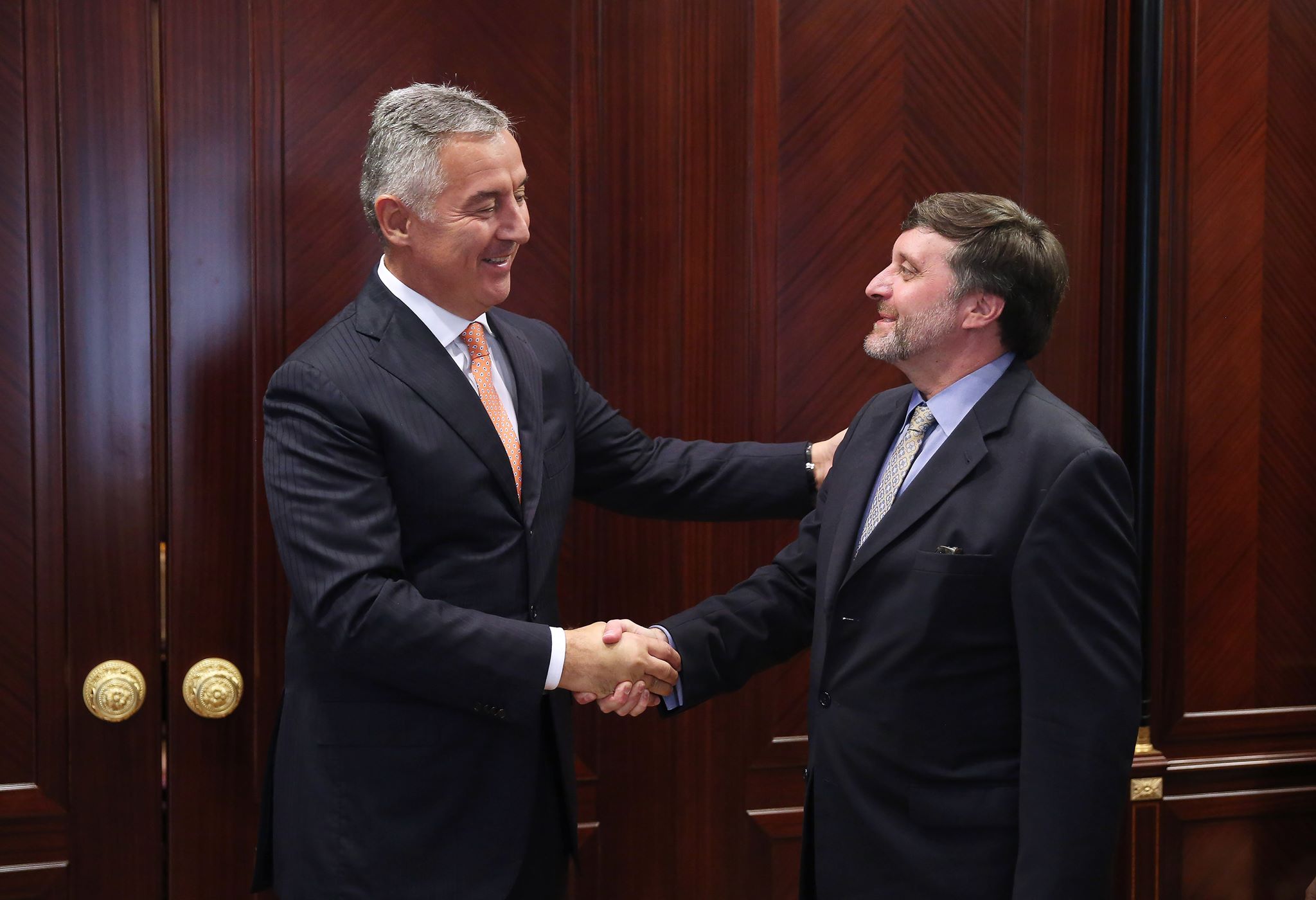 Deputy Assistant Secretary of State for European and Eurasian Affairs and Special Representative of the State Department for the Western Balkans Matthew Palmer visited on Monday the capital of Montenegro, Podgorica, in his first official visit to the countries in the region.
Palmer met with Montenegrin president Milo Đukanović and informed him on the priorities of his mission: encouraging the opening of EU accession talks for Skopje and Tirana, returning Belgrade and Priština to the negotiations table and seeking solutions for Bosnia and Herzegovina to become a functional state.
Palmer emphasized that he sees Montenegro as a partner in these processes, especially given the good relations it has with the countries of the region.
"You can count on the absolute partnership of Montenegro and mine personally so that we can all do the best for the region", Đukanovic said.
He stressed that both sides share initial assessments of the problems in the region: insufficient peace and stability and a lack of clear vision of the prosperity of the region. The path to overcoming this situation is integration, and the Western Balkans does not have a desirable perspective without it.
"That is why we strongly advocate an enlargement policy," Đukanovic said.
Montenegrin Prime Minister Duško Marković, congratulating the US Representative on his appointment, he said it represents a real opportunity to accelerate the achievement of Montenegro's strategic goals and that it contributes to the stability of the entire region.
"We are especially pleased that you, as an excellent expert on the Balkans, are taking the office," the Prime Minister stressed.
Special Representative Palmer said the United States, by his appointment, indicates that they are refocusing on the region.
The meeting noted that the process of European and Euro-Atlantic integration of the Western Balkan region is in the interest of both this region and Europe as a whole and that the EU enlargement policy should be viewed as a European strategic policy.
"This means that the enlargement process must be alive. This is in the interest of both the EU and the countries of our region", the Prime Minister underscored.
Speaking about Montenegro, the US Representative said that Montenegro is the leader and most successful multi-ethnic state in the region and that it is no coincidence that Montenegro is the first country he is visiting after taking office.
Marković informed Palmer about the results and strategic plans in political terms, stating that the Government's successful economic policy has yielded excellent development results. In the process of European integration, special emphasis is placed on the results in the area of the rule of law and strengthening the freedom of the media, the Prime Minister stated.
According to the press release from the Montenegrin Government, the US diplomat expressed an interest in the upcoming election, and in that regard, Marković said that the Government is committed to the success of the election dialogue, as well as to coming to an agreement on the mechanism of its implementation and its recognition by all actors./ibna