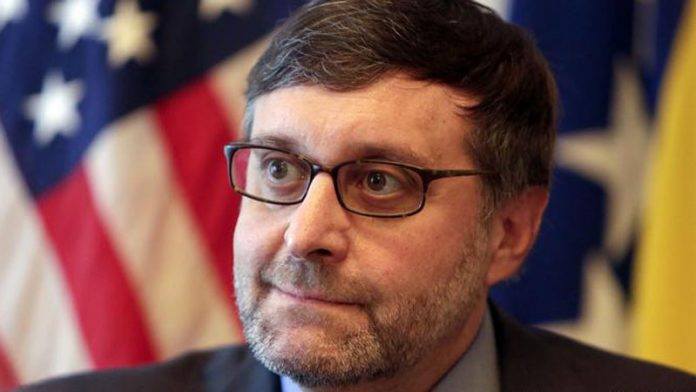 US Deputy Assistant Secretary of State and Western Balkans Special Representative Matthew Palmer said the US is committed to Montenegro as an ally and that more support will be given to the country in the coming period.
Asked what kind of help Montenegro can expect from the United States, Palmer said there were a number of things already underway.
"US companies are increasingly involved in helping Montenegro. The whole picture of how the United States responds to the crisis should be taken into account here. The government takes action, US companies are often at the forefront of action, and private and charitable organizations and individuals are involved, who all contribute. I know that in the American corner of Montenegro and elsewhere in the Western Balkans, 3D printers are available to student groups and civil society organizations that produce face protection and other personal protective equipment, which contributes to this struggle. I expect that in the future, the United States will look for an opportunity to do more to show support and solidarity with Montenegro and to partner with the Montenegrin authorities in the fight against this virus", Palmer said in an interview with the Voice of America.
Commenting on the measures taken by Montenegro to prevent the spread of the virus, Palmer stressed that each country should "establish its borders and find a different balance"
"The United States will not dictate what that balance should be. In a democracy, it should be identified by officials, ideally in dialogue with citizens. Montenegro is making great efforts to ensure that the virus is not rooted and spread in the country, and we understand that. Whatever restrictions or reductions of the rights are considered necessary in this time of crisis, it is very important that these restrictions be time-bound and targeted, and that Montenegro, like all other democratic states, works to ensure that once the crisis is over and the virus is defeated, return to its original state as soon as possible. I am convinced that we will defeat the virus", Palmer noted.
He also commented the fact that there are some on social networks who say that NATO allies, including the US, are not helping Montenegro sufficiently in the fight against coronaviruses.
"I would respond with understanding. Everyone would like the United States to do more. Everyone would like their allies and partners to do more. What I can tell them is that we are committed to that partnership. We are committed to Montenegro as allies, we have taken steps to support it, and more support will follow", Palmer said./ibna