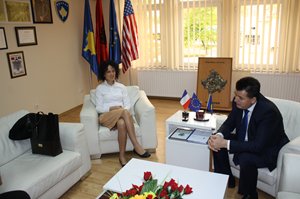 Mitrovica, May 2, 2014/ Independent Balkan News Agency
By Elton Tota
Privatization Agency of Kosovo (PAK) has started to free the properties of Albanians occupied by Serbs in the north of Mitrovica.
The head of the commune, Agim Bahtiri has met the executive chief of the Regional Privatization Agency of Kosovo in Mitrovica, Milena Djuric with which he has talked about the work and challenges that this office is facing as far as the freeing of occupied properties is concerned, both in the north and the south of Mitrovica.
Djuric told Bahtiri that this office is making efforts in the framework of the powers that it holds to free the properties that have been occupied, both in the southern or northern part of Mitrovica, but also in the five other communes of the region: Vushtria, Skenderaj, Zubin Potok, Zvecan and Leposavic.
She also said that based on the evidence that the office that she leads possesses, in the whole of the north, 280 properties have been occupied and must be freed, mainly belonging to Albanians, while in the southern part of Mitrovica and in Vushtria and Skenderaj, there are 170 such properties, mainly belonging to Serbs. According to her, cooperation between heads of communes, both in the north and the south with the representatives of PAK is good and it's producing results in freeing the properties occupied and their return to the legal owners.
"We've had a problem with the freeing of occupied properties, especially in the north, as we didn't have police support with the justification that in the north, there's no security, nor a stable political situation. But, this situation has changed now and it's been a month and a half that police are supporting us in freeing properties, which we then transfer to lawful owners and our job stops here. Meanwhile, in the southern part there have been fewer problems of this nature", said she.
Mayor of the commune, Agim Bahtiri told Mrs. Djuric that he's interested to cooperate with the office that she leads, because the problems that the office is handling are being reflected in the daily life of the citizens in the southern part and who are constantly addressing to the commune for a solution.
"So far, the commune has done its best to solve problems of accommodation, school expenses, power supply, water, etc. Citizens have been moved out of their properties in the north and they could not go back. With the creation of the new commune in the north, the commune has a smaller budget and more problems, therefore it's necessary for all of us to be engaged in freeing their properties in the north and the creation of the necessary conditions for them to return there. This also goes for Serbs who want to return to their properties in the southern part of the city", said he. /ibna/