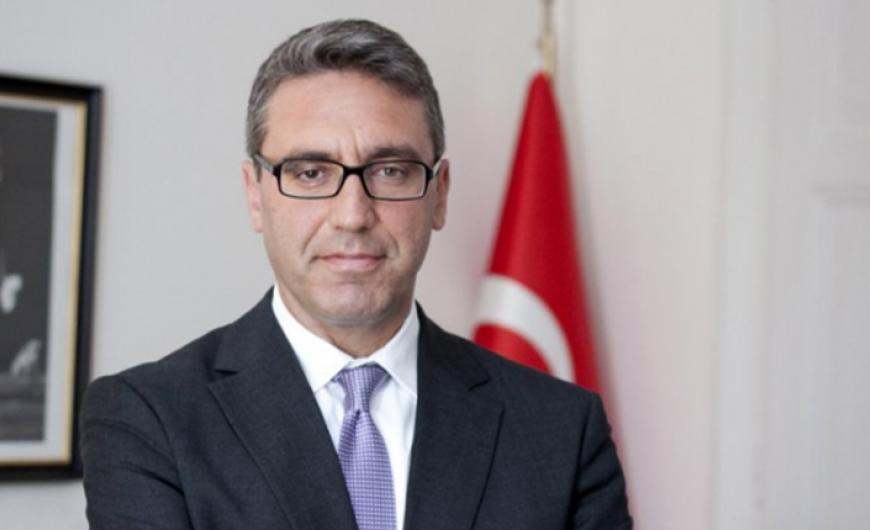 Turkish Ambassador to Greece Burak Özügergin had a meeting with journalists on Wednesday, 15 July, on the anniversary of the 2016 coup attempt in Turkey.
The Turkish Ambassador noted that today, the 4th anniversary of the failed coup, is an important day for Turkey, as hundreds of lives were lost and thousands of civilians were injured.
At this point, the Turkish diplomat referred to the 8 soldiers who landed in Alexandroupolis four years ago accused of participating in the coup by Turkish justice, but to this day continue to enjoy impunity with political asylum provided by the Greek judicial system, as he stressed.
Burak Özügergin also said that many members of terrorist organizations such as the PKK, Daesh, PYD, YPG and DHKP/C could roam freely the Greek streets holding terrorist symbols or posters. He added that the glory of terrorism has nothing to do with freedom of speech, as it is unacceptable and Athens knows it.
The Turkish Ambassador complained that the Turkish Embassy was targeted by the terrorist organization DHKP/C, as its executives were arrested in March with heavy weapons in their possession just a few hundred meters from the Embassy building, wondering if anyone could be comfortable with missiles pointing towards them.
"We are upset", he said, adding that abiding by the logic that "the enemy of my enemy is my friend" is not a healthy approach to international relations.
The Turkish diplomat recalled that in the last four decades, four members of the Turkish diplomatic mission and members of their families were killed in Athens, adding that after all these decades, the perpetrators remain free.
As he noted, "last February, when I received an invitation by the Ministry of Interior to speak, along with other ambassadors, at an official event for the victims of terrorism in Greece, I immediately agreed. Two days later, I was informed that the invitation had been canceled. Someone obviously did not want to hear what we had to say", said Burak Özügergin.
"In addition, our delegations and staff are constantly targeted. We have not heard any results from ongoing criminal investigations. Just last year, 4 private vehicles of  members of our delegation, or of our citizens working in international organizations, were set on fire".
Referring to the issue that monopolizes the discussions and current affairs in Greece for the change of status of Hagia Sophia, the Turkish Ambassador stressed that Turkey does not see the issue as Turkish-Greek, or Turkish-European or a problem between Islam and Christianity.
"We do not see the issue as a Turkish-Greek, Turkish-European or a problem between Islam and Christianity. In fact, I will openly question the verity of framing the issue as a bilateral problem between Turkey and Greece, or between Turkey and Europe, or even worse, as a clash of religions or cultures. We must be very careful not to turn those discussions into such an affair".
"Neither the 1972 Convention on the Protection of the World Cultural and Natural Heritage nor the operational directives preclude the property rights of cultural heritage countries, including a status change", the Turkish diplomat explained.
"That being said, rest assured. We understand the sensitivities and concerns of the Greek people and what it means for the Greek people. We are a nation that fully respects the sanctity and long-term value of Hagia Sophia (as well as several other cultural values ​​in our territory) both in terms of its architectural features and its deep importance in the hearts of Greeks. We recognize the inviolability of its architectural features", said Burak Özügergin.
"We have a rich tradition and experience of cultural preservation. How else could Hagia Sophia survive to this day in perfect condition?" the Turkish Ambassador wondered adding, "We did not preserve it for 567 years because someone told us, but because it was the right thing to do. We protected the images when uncontrolled theft was a widespread tactic in Europe or by Europeans wherever they went".
"You can be sure that we will continue to respect the sensibilities and do the right thing. However, we expect in our turn empathy and respect from all of you", concluded the Turkish Ambassador to Greece Burak Özügergin. /ibna