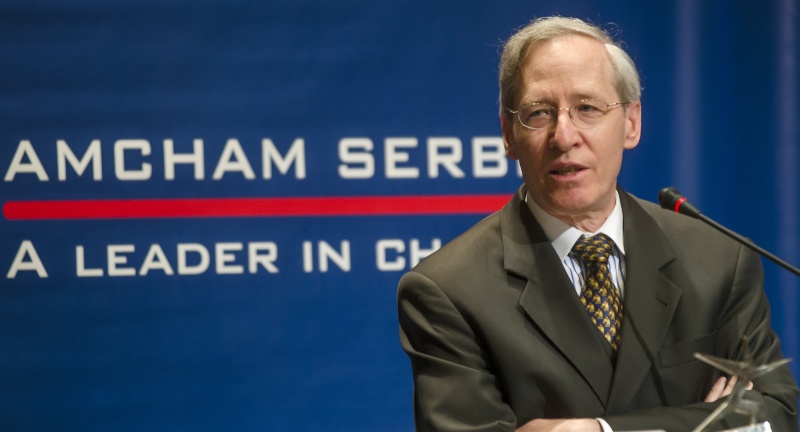 Belgrade, November 13, 2015/Independent Balkan News Agency
By Milos Mitrovic
I told Serbian Prime Minister Aleksandar Vucic that I have no interest in overthrowing him, which means that the United States have no interest of doing that – United States Ambassador to Serbia Michael Kirby (photo) said in conversation with Serbian journalists on Thursday. Kirby commented statements which suggest that certain foreign countries and intelligence services strive to change the government in Serbia as well as tabloid reports which claimed that foreign embassies, including American, have been financing a number of media in order to undermine the Serbian government.
Kirby praised Vucic's cabinet for – among other things – its economic reforms, efforts for the reconciliation in the region and Serbia's role in overcoming the refugees crisis. "Our relations with him (Vucic) are pretty good. If you look logically, where Serbia goes, Vucic leads it where we want it to be. United States would like to see Serbia within the European Union", Ambassador Kirby explained.
Considering the dialogue between Belgrade and Pristina, Kirby said he believes that Kosovo's Constitutional Court would find that the establishment of The Community of Serbian Municipalities would be constitutional. When asked whether the dialogue is jeopardized following the UNESCO's decision against Kosovo's membership in the organization, the Ambassador assessed that the advance exists "in general terms", although "there are good and bad days" in that sense.
Kirby believes it's not possible at this moment for Belgrade to take more flexible approach on Kosovo's aspiration to become a member of UNESCO and other international organizations. "But as a diplomat I believe in discussion", he added recalling that Belgrade has expressed its readiness to discuss Kosovo's aspirations.
Serbia, North Korea and Russia
US Ambassador has also commented the list of the countries which supported Serbian opposition to Kosovo's UNESCO membership at the General Conference's voting earlier this week. "I would say that Serbia is a democratic, pluralistic country which stands for human rights, and when you take a look who voted like Serbia you would see that many of that countries don't share these values. Serbian citizens would not like to live in some countries which have been on its side. It would be nice to see this lists. Many of those who were on your side don't respect human rights which are supported by the majority of the political parties in Serbia and, I would say, the majority of the citizens of Serbia. I don't think that people in Serbia would like to live in a society like the one in North Korea", Kirby elaborated.
The American diplomat praised the participation of the Serbian Army in the international peace keeping missions and compared US-Serbian defense cooperation to those of the Russian Federation and Serbia.
"When I see the exercises which they (Serbian Army) have with us and with Russia, I wander how can exercises with Russia fit in a peace keeping pattern. I don't see that massive tank exercises are peace keeping missions, nor massive jumping out of planes. We want Serbia to be a contributor to the peace and stability and we think that Serbia also wants it. But if the missiles are part of it, it's fine", Kirby said.