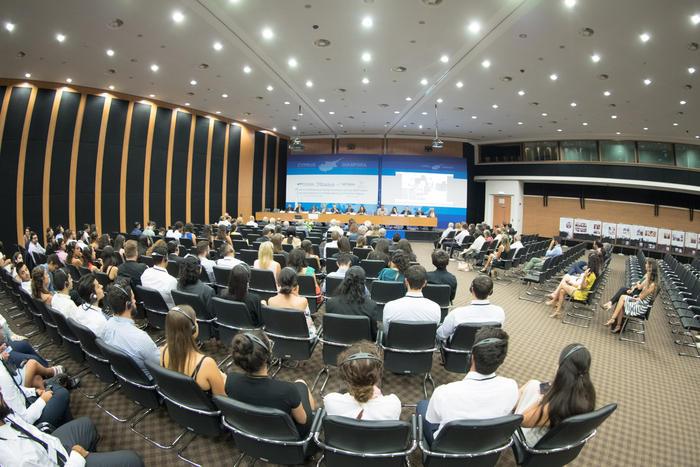 A presentation on the multilevel actions undertaken by the Press and Information Office (PIO) for establishing interactive communication with the use of innovative technology, launched the afternoon session of the 9th World Conference for Young Overseas Cypriots (NEPOMAK) and the meeting of the Executive Council of the World Federation of Overseas Cypriots – International Coordinating Committee "Justice for Cyprus" (POMAK-PSEKA).
Ms Sophie Michaelides, PIO Director, explained to overseas Cypriots what PIO does, its strategy, its vision and mission, and call on delegates not only to establish cooperation with the PIO, but also to make use of PIO in promoting Cyprus in their countries of residence.
Delegates express particular interest in PIO Newsletter; an online magazine addressed to overseas Cypriots.
At the same panel, the CyBC Board Chairman, Mr Thanassis Tsokos also briefed delegates on the new Internet programs of the CyBC, addressed to the Greek Diaspora.
Mr Tsokos briefing was followed by a closed-session-update by the Minister of Finance, Mr Harris Georgiades, on Cyprus's economic developments.
NEPOMAK was also briefed on the programmes and other opportunities provided by public and private universities in Cyprus for young overseas Cypriots.
A workshop to Cypriot dialect offered to NEPOMAK members concluded today's session.
Late afternoon, delegates will visit the Presidential Palace, where they will be briefed by the President of the Republic, Mr Nicos Anastasiades, followed by a reception hosted in their honour by President Anastasiades and the First Lady, Andrie Anastasiades.
Overseas Cypriots organizations' conference will wrap up on Friday, July 27 with a press conference by NEPOMAK, POMAK and PSEKA Chairman"./IBNA