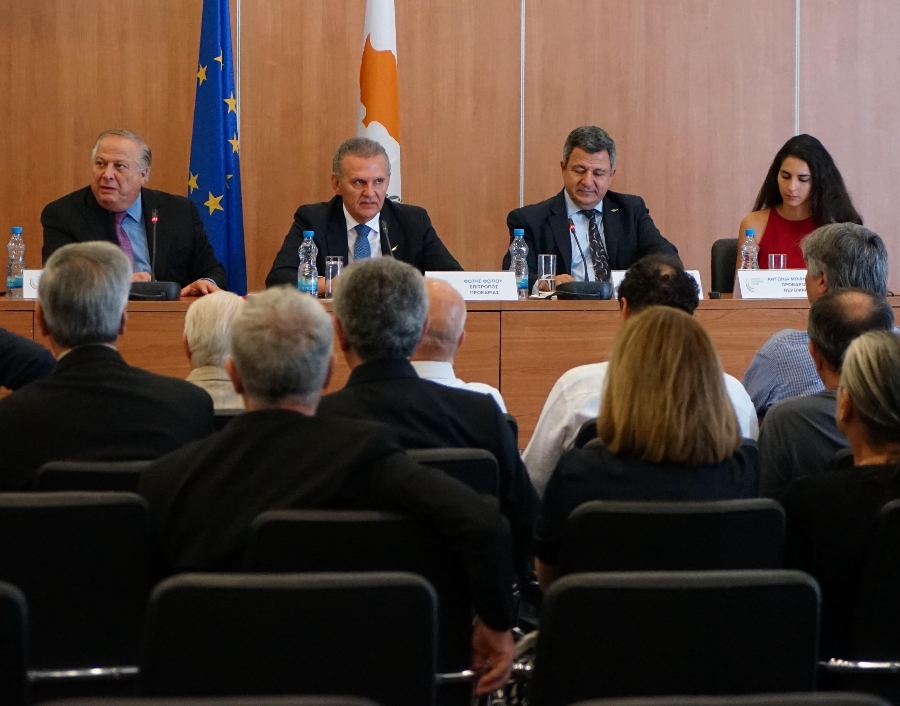 The 19th World Conference of the World Federation of Overseas Cypriots – International Coordinating Committee "Justice for Cyprus" (POMAK-PSEKA) and the meeting of the Executive Council of the World Organisation for Young Overseas Cypriots (NEPOMAK), which was held at "Filoxenia" Conference Center, in Nicosia, on 21-24 August 2017, wrapped up deliberations today.
Within the framework of the Conference, the Central Council of the Overseas Cypriots organisations was received by the President of the Republic of Cyprus, Nicos Anastasiades, at the Presidential Palace. In addition, the delegates were be briefed by the Ministers of Foreign Affairs, Energy and Finance on matters of their competence, as well as by the Presidential Commissioner. Discussion also took place with parliamentary Party leaders or representatives, as well as with the UK High Commissioner, US and Israeli Ambassadors and representative of the Greek Embassy.
Delegates were also briefed by the Unit of Administrative Reform and the Department of Information Technology Services (DITS) on the Government Gateway Portal "Ariadni", which enables the use of electronic services (e-services) that are available by the Government of Cyprus on the internet. In addition, the President of the Cyprus Space Exploration Organization (CSEO), Mr George Danos, presented CSEO's work and achievements, as well as the prospects of Cyprus' industry for space exploration.
The Conference's deliberations were concluded with a Press conference by the Presidents of POMAK, PSEKA and NEPOMAK, with the participation of the Presidential Commissioner for Humanitarian and Overseas Affairs, Mr Photis Photiou.
In the margins of the Conference, POMAK and PSEKA Central Council laid wreaths at the monument of the 13 heroes, at the "Evangelos Florakis" Naval Base, in Mari, and then, paid a visit to the EOKA Fighter Melathron in Palodia./IBNA
Photo: pio.gov.cy