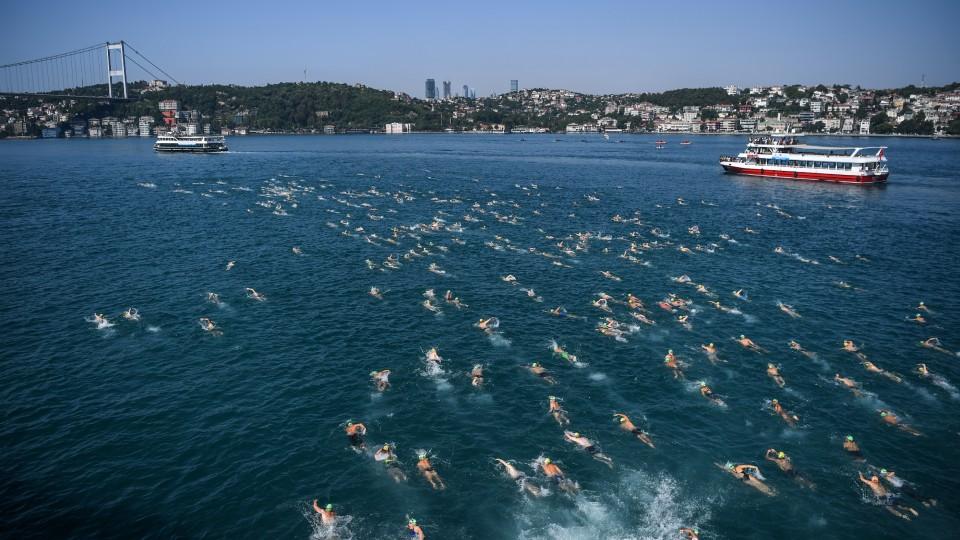 The Bosphorus Cross Continental Swim is to take place this Sunday and is expected to attract 2, 4oo swimmers from 50 countries.
It was first held in 1989 with the participation of 68 people, 64 men and 4 women.
Nearly thirty years on, the open water swimming event between the continents Europe and Asia has become annual, it is the world's only transcontinental race across Istanbul's Bosporus Strait organised by the Turkish Olympic Committee and sponsored by Samsung.
Participants must cover a swim route of 6.5 kilometres from Asia to Europe that starts at the Pier of Kanlıca, north of the Fatih Sultan Mehmet Bridge, in the Asian part of Istanbul, runs southwards, and finishes at Cemil Topuzlu Park in Kuruçeşme, north of the Bosphorus Bridge, in the European part of the city.

The event became international in 1992, with the participation of 22 swimmers from Czechoslovakia and two from the United States.
Among the notable swimmers from all over the world who have entered the event during its history are the American swimmer Mark Spitz, nine-time Olympic champion, and former world record-holder in seven events, who in 2012 attended it as a guest, and performed shows. In 2013, Australian Olympic gold medalist swimmer Ian Thorpe was also a competitor.
A Turkish woman, named Fatma Nazan Göğen has participated every year since the very first race in 1989. Turkish Levent Aksüt has been the oldest swimmer so far at the age of 85 while local sportsman Hasan Eskioğlu holds the record for the most victories at ten times, of which seven were in a row.
While the race is on, the Bosporus is closed to all ship traffic but certain boats (must) accompany swimmers along the distance they have to cover to ensure their safety.
Samsung said 4,430 people applied for this year's race, as reported on Daily Sabah, including 3,269 men and 1,161 women. Of those, 2,400 swimmers qualified for the competition.
The Turkish paper notes that last year, Russians took first place in both the men's and women's races…. / IBNA
Main Photo (File): During the 2017 event