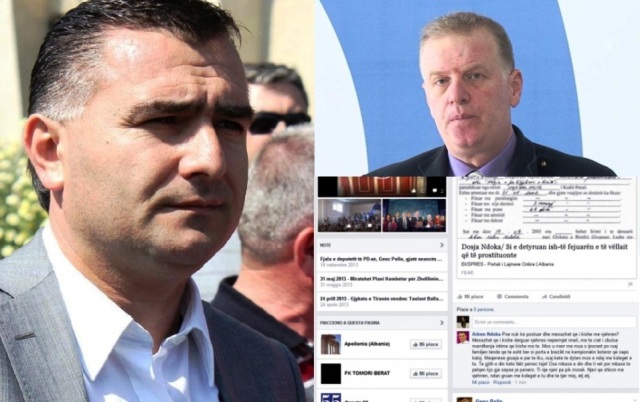 Tirana, 6 August 2015/Independent Balkan News Agency
By Edison Kurani
Strong accusations, on the limits of perversity, have been exchanged by two members of the Albanian Parliament, whereby one side used social networks to spread the news that suggested the existence of a criminal file containing materials for traffic of prostitution  and incriminating a left wing MP, while the other side reacted by launching accusations for intimate indecent affairs.
The protagonists of this debate, the images of which were taken off by them from the social networks, but which IBNA brings to you in full below, are the MP of the Democratic Party in opposition, Genc Pollo and the MP of the Socialist Party in government, Arben Ndoka.
The latter has been targeted by the opposition and international community as a person convicted of traffic of human beings outside of Albania.
The clash started yesterday, when Pollo MP posted on his Facebook page, the news of the publication of a criminal case which suggested that Arben Ndoka had forced the fiancee of his brother to work as a prostitute.
Pollo had spread the news published by the opposition's newspaper, "Rilindja Demokratike".
Ndoka's reaction was shocking. He accused Pollo of sexual relations with his mother in law and of sharing his wife sexually with other men.
"Why didn't you post the messages that you exchanged with your mother in law?  Your affair with your mother in law was discovered through the messages that you sent to her through e-mail?!", Ndoka writes at the beginning.
Then came the message filled with accusations and insults: "Don't talk about me, you ignorant, but look at your family who has become like Brazil's goalie in the World Cup. Now that your first wife has left, watch the second one and don't share her with your colleagues".
Ndoka doesn't stop in these unprecedented accusations, which have never publicly involved an Albanian Member of Parliament" "Everyone knows this apart from you. Or perhaps you know it too and you like it, because you're a pervert. You're a man with no morals whatsoever. A man who sleeps with his mother in law, who shares his wife with his colleagues, etc…", Mr. Ndoka concludes.
DP reacts officially
Ndoka's reaction shocked the main party of the opposition. Through a press statement, DP said: "Edi Rama's MP, Arben Ndoka has attacked in a primitive way and through extreme insults, Genc Pollo MP, after the representative of the Democratic Party posted incriminating facts against him in social networks".
The Democratic Party says that it strongly condemns "this unprecedented aggression by Edi Rama's MP, convicted of prostitution and kidnapping".
According to the opposition, the "Socialist Party representative has Edi Rama's blessing for the attacks that he makes against DP representatives".
DP says that "these are the last shreds of crime in parliament and politics, as the Democratic Party will finalize the process of decriminalization with the support of the citizens and international partners". /ibna/