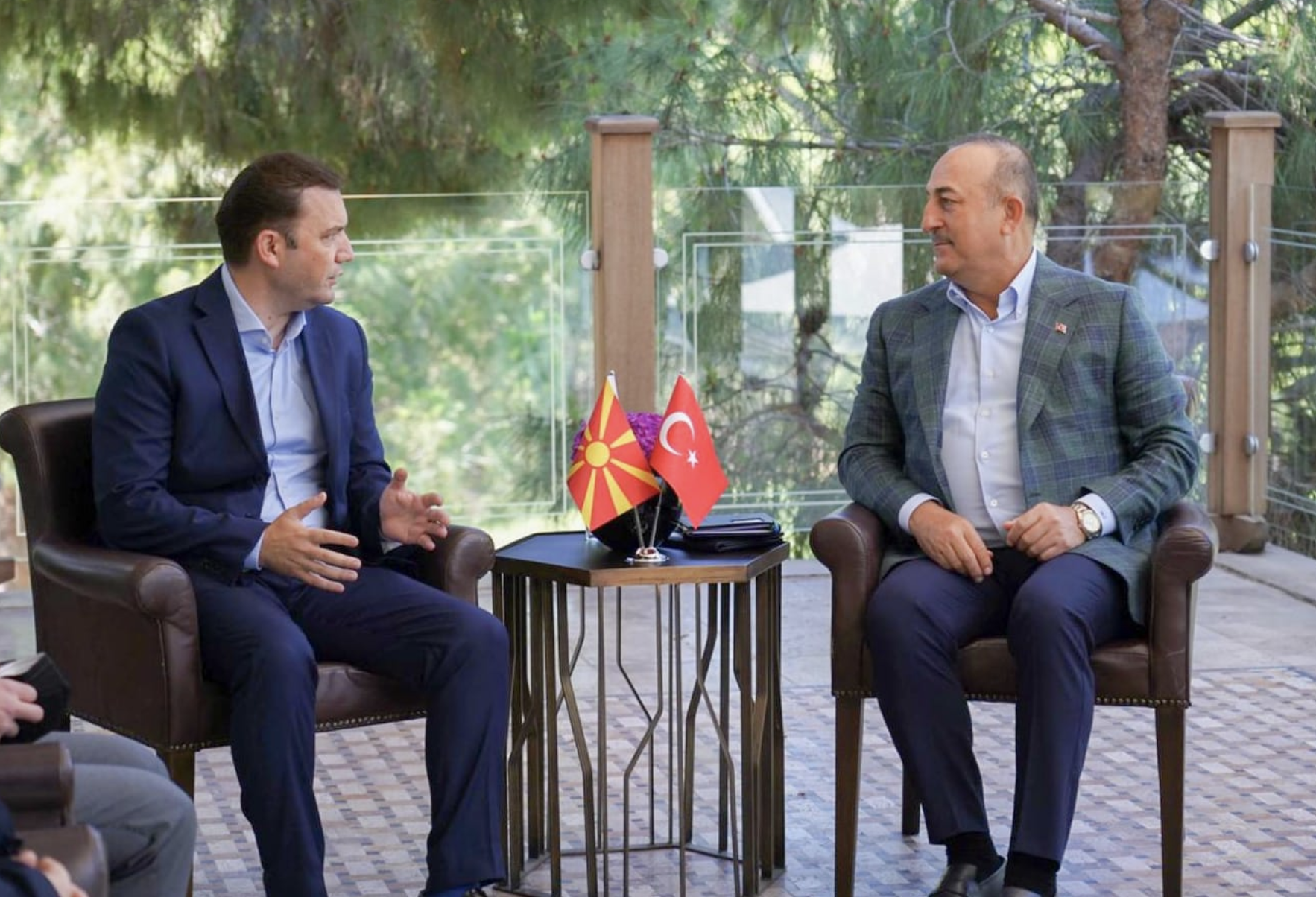 The Minister of Foreign Affairs, Bujar Osmani, had a bilateral meeting with the Minister of Foreign Affairs of the Republic of Turkey, Mevlüt Çavuşoglu, on the sidelines of a meeting of Foreign Ministers participating in the South East European Cooperation Process, which is hosted in Antalya, Turkey.
The Ministers concluded that the two countries nurture a long and close friendship, without any open issues, and as NATO allies, are associated with the same values ​​in terms of peace and stability in the region, through good neighborly relations and regional cooperation.
At the meeting, special attention was paid to the exceptionally good economic cooperation between the two countries, with the ministers committing themselves to activities that will contribute to the deepening of business and trade ties. Turkey, as one of the largest foreign investors in the country, is of special interest to North Macedonia, and in that context, Osmani informed Çavuşoлуlu about the decision to send an economic advisor, who will work exclusively on promoting economic cooperation within of the Embassy of North Macedonia in Ankara.
The two foreign ministers also discussed co-operation in the fields of education, defense, culture, tourism, but also the fight against terrorism and all forms of extremism.
The Minister of Foreign Affairs, Bujar Osmani participated in the meeting of Ministers of foreign affairs of the Member States of the South East Europe Cooperation Process (SEECP) held in Antalya, Turkey, as part of the 2020 – 2021 Turkish Chairmanship.
In his address at the meeting, Osmani presented the views of the Republic of North Macedonia with regards to the current developments in the Region and their influence on the overall cooperation, as well as the modalities for its improvement through the SEECP format in particular.
"We have come a long way since the beginning of the Southeast Europe Cooperation Process. Today, all our countries are harmonizing with Euro-Atlantic values and strive to become part of the European family. Apart from our fundamental commitments to peace and stability, there have also been other significant achievements in the area of regional cooperation, which was in fact the main driving force throughout the entire process and has generated substantial results.By means of regional cooperation and strengthened communication at all societal levels, starting from economy, business, culture up to political communication – we are overcoming the differences that were burdening the region and we have visible benefits from that successful regional cooperation", Osmani said.
The Ministers discussed the priorities of the Turkish Chairmanship of the SEECP which were, to a great extent, focused on the establishment of a greater connectivity within the region, youth and its importance in societies, digitalization, culture and tourism, promotion of regional cooperation through strengthening of political and economic cooperation, as well as democracy, rule of law, free market economy and the respect of fundamental human rights as basic European values which remain in the focus of all SEECP Members.
The SEECP forum consists of 13 members from the Southeast Europe region, –where North Macedonia is joined by Albania, Bosnia and Herzegovina, Bulgaria, Greece, Moldova, Kosovo, Romania, Serbia, Turkey, Croatia, Montenegro and Slovenia./ibna