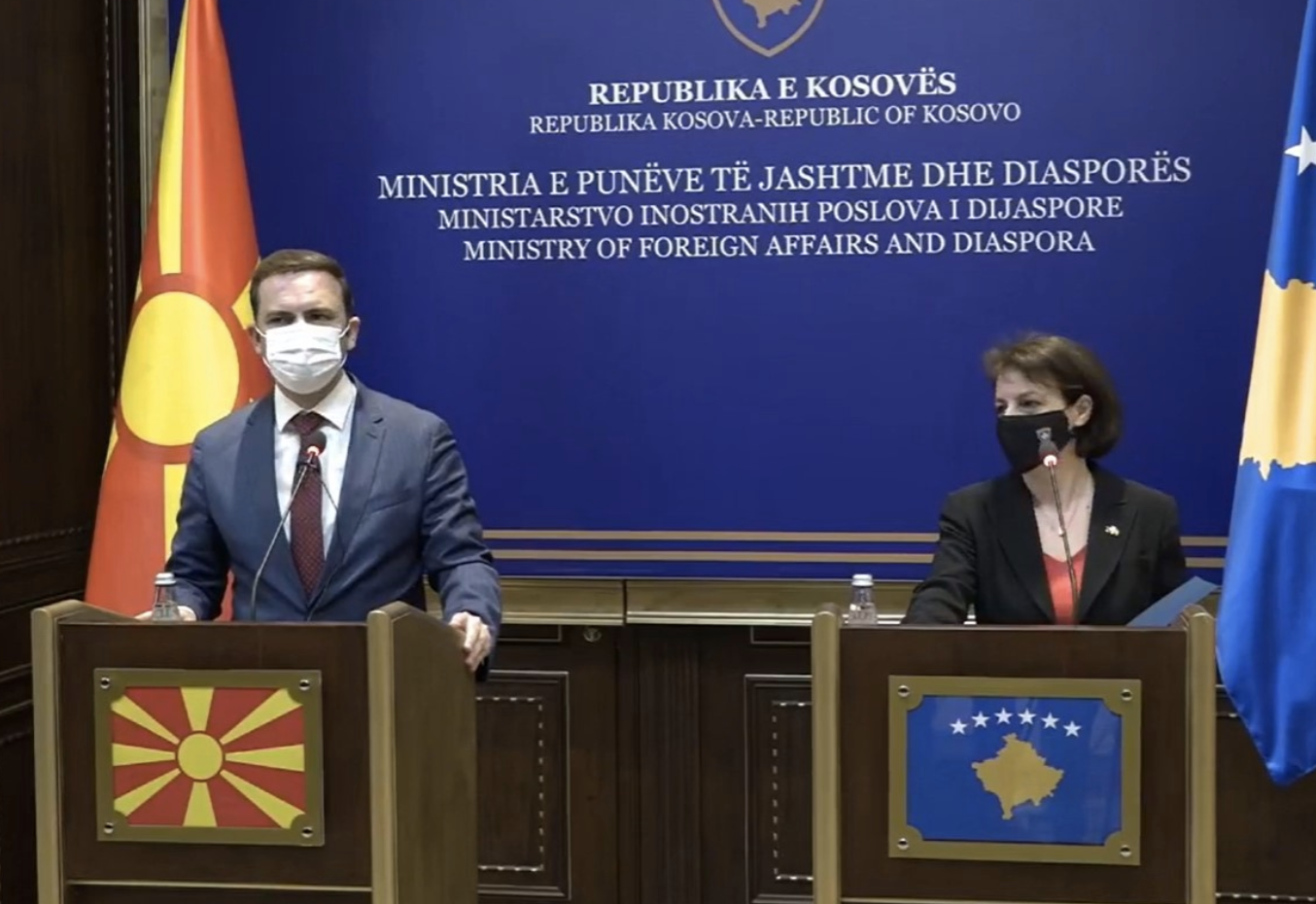 North Macedonian Foreign Minister Bujar Osmani kicked off his visit to Kosovo with a meeting with Deputy Prime Minister and Minister of Foreign Affairs and Diaspora Donika Gërvalla.
"The impeccably good relations between North Macedonia and Kosovo were confirmed, as well as the readiness of both sides to further build a close and lasting friendship in the interest of the citizens of both countries, but also by serving as a good example for the region which is facing many challenges," Osmani said.
"Kosovo and North Macedonia share an extremely dynamic trade, but at the same time there is huge potential for strengthening the economy, which of course requires infrastructure support," Osmani stated, pointing to the need to review cooperation in the fields of education and science, culture, health and more.
As part of his focus on building an open dialogue with all countries in the region, Osmani conveyed North Macedonia's support for the Pristina-Belgrade dialogue as the best way to overcome differences and find a lasting solution between the two countries, in the interest of citizens and the region as a whole.
He added that "North Macedonia, as a NATO member, fully supports the Euro-Atlantic perspective of the Republic of Kosovo. I expressed my satisfaction over the fact that, starting this year, members of the Army of North Macedonia will be part of KFOR here. Our ambition is the full EU accession of the six countries of the Western Balkans and, as a country negotiating with the EU and with long experience in this context, we are ready to bestow to Kosovo all the knowledge and experiences we have gained so far," Osmani concluded.
Minister Donika Gërvalla said that the roughly 30 agreements related to North Macedonia in many areas, meetings and visits, set an example of good neighborliness, praising the neigbouring country as a strategic partner for Kosovo.
Gërvalla said there was a need for better co-ordination between the two governments to facilitate the movement of goods.
"In order to further facilitate the movement of goods and people, there is a need for better coordination between the two governments to facilitate border control. Kosovo and North Macedonia are eyeing the same goal; EU membership," she added.
Osmani's diplomatic activities in Pristina continue with his meetings with Kosovo President Vjosa Osmani Sadriu, Parliament Speaker Glauk Konjufca and Prime Minister Albin Kurti. /ibna