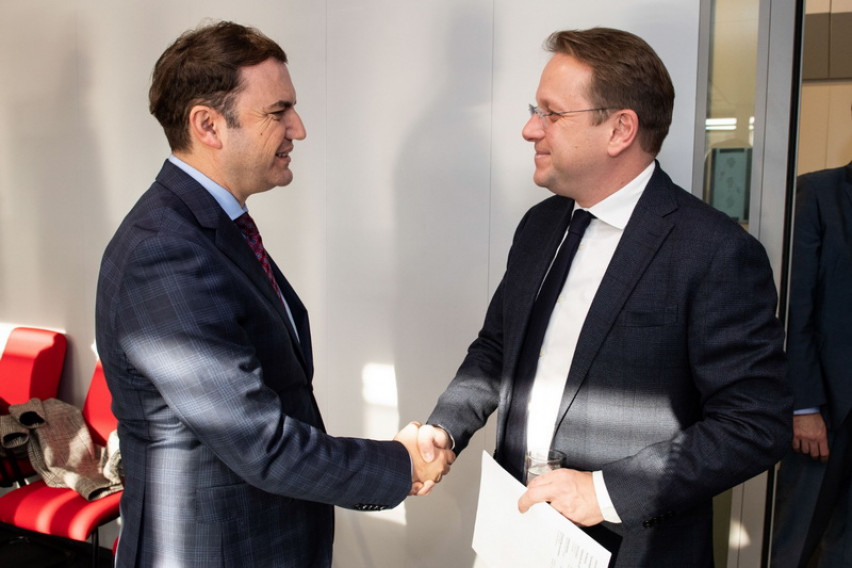 Foreign Affairs Minister Bujar Osmani stated that, in the near future, the government of North Macedonia would intensify its contacts with Bulgaria in order to reach a solution to the disputes and avoid an exclusion from the EU accession negotiations.
Osmani recalled that Bulgaria has played an important role in unblocking the EU's prospects for the whole region, and expects Sofia to continue on this path.
"Given that Bulgaria holds great value in restoring the European perspective of the region, especially through the 2018 Sofia Summit, it is in Bulgaria's interest to succeed in this regard and I expect all misunderstandings to be resolved in the coming period", he said. He announced that contacts at the political level were expected to intensify, as well as the work of the Joint Committee as an obligation in the context of the friendship agreement with Sofia.
Osmani recalled that an EU country could block the decision to start negotiations, and it was, therefore, important to maintain constructive communication between the two countries.
"The adoption of the negotiating framework requires the consensus and decision of all EU Member States; however, the framework and the Intergovernmental Conference operate with the already adopted political decision with the consent of this year's March. A country can slow down or hinder the process, but we hope this will not happen, because we have tools at our disposal to resolve the disputes", Osmani told MIA.
A similar message was conveyed by Bulgarian MEP and rapporteur for North Macedonia in the European Parliament Ilhan Kyuchyuk.
"I am glad that both sides want to talk, to sit at the table. I hope there will be no escalation or strong political rhetoric as was the case in the elections. We have overcome this, now is the time for both sides to sit down and discuss key issues", the Liberal MP said.
He believes it is important for the German presidency's goal of holding the first intergovernmental conference by the end of this year to be realized, and he will call for "substantive talks" between Skopje and Sofia. He adds that the EU accession of North Macedonia embodies a strategic goal for Bulgaria as well.
Kyuchyuk added that the people of North Macedonia rightly expect that the decision to start negotiations will not be postponed again, assuring that the European Parliament's support for North Macedonia is enormous.
"The result will definitely be very negative if the decision is postponed again, both for the country's political elites and for the people. North Macedonia has managed to have a clear policy around NATO and the EU over the years; it has managed to meet the conditions for NATO membership and it is normal for citizens to await for and to be longing to join the EU. For that, everyone is making big efforts", he told MIA.
Next week, the European Commission is expected to publish reports on the progress of reforms in the countries of the region, after which the European Parliament will prepare a resolution on North Macedonia, under the auspices of Kucuk. The resolution must be finalized before the end of the year. /ibna