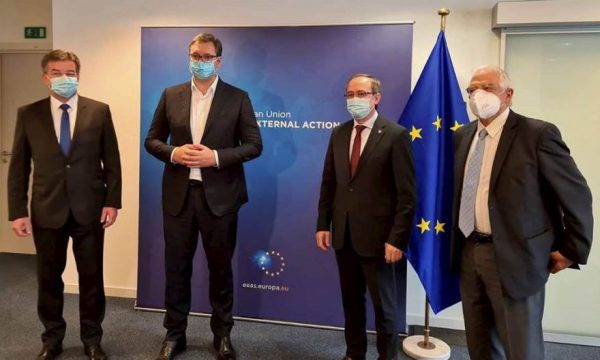 Vjosa Osmani, Kosovo's President, said on Wednesday that Pristina would take part in the dialogue on the normalization of relations with Belgrade only to reach an agreement and mutual recognition.
Addressing a debate organized by the Atlantic Council, she added Serbia should open archives about missing persons besides recognizing Kosovo.
"Kosovo is ready for talks to reach mutual recognition with Serbia. I believe it will depend on how Serbia will behave in the dialogue and what it thinks about its European Union membership since it cooperates with Russia both economically and militarily", Osmani said.
European Commission spokesman Peter Stano said on Wednesday that the new round of the Belgrade-Pristina dialogue is scheduled to take place in Brussels on June 15.
He told that Serbian President Aleksandar Vucic and Kosovo Prime Minister Albin Kurti would meet with EU envoy Miroslav Lajcak mediating the dialogue.
Enver Hoxhaj, the leader of Kosovo's Democratic Party, said on Wednesday that Prime Minister Albin Kurti should cancel the June 15 Brussels meeting with Serbia's President Aleksandar Vucic if Belgrade did not apologise for "genocide" in the 1998-1999 war.
"If Serbia does not apologise before June 15, Kurti should cancel the meeting with Vucic," Hoxhaj said according to Ekonomija online as carried by KoSSev.
Hoxhaj recalled the conditions he put to Kurti before the dialogue on the normalisation of relations with Belgrade started: Serbia's apology and finding what had happened to the missing persons./ibna