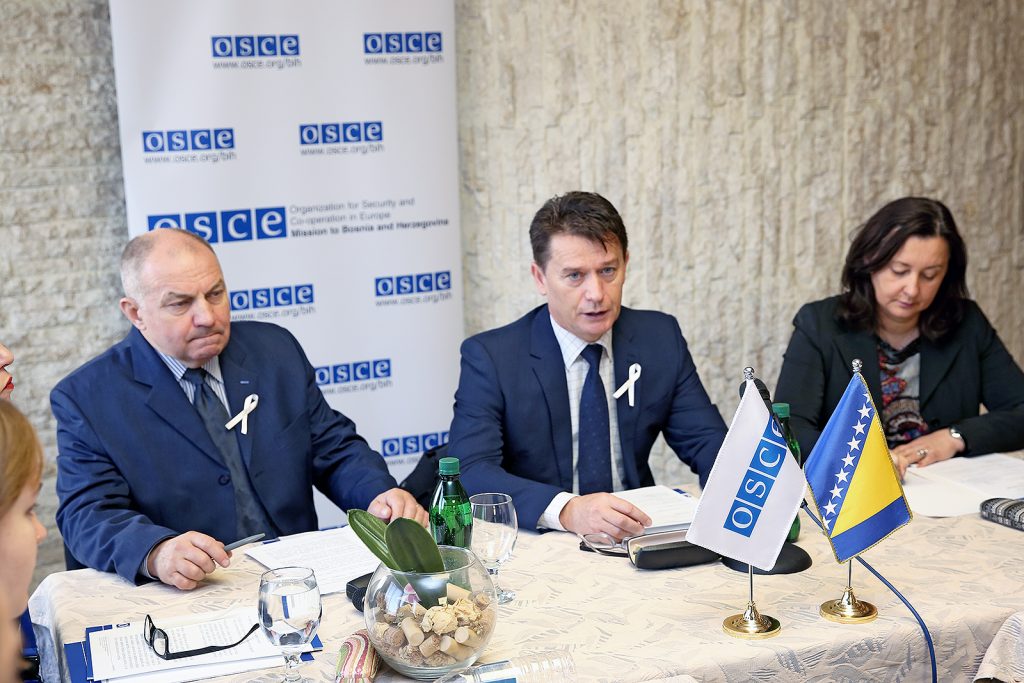 The fourth Advanced BiH Security Policy Course, organized by the OSCE Mission to BiH and the Council of Ministers' Inter-ministerial Working Group on Monitoring the Implementation of BiH Security Policy, concluded on Thursday in Tuzla.
The Course, as the OSCE Mission in BiH announced, was intended for former students of the BiH Security Policy Course who hold managerial positions. The aim was to update their knowledge on security policy in line with the current developments in this field, and to facilitate coordination and cooperation among various security actors. Some 25 participants, representing government institutions, police, armed forces, academia and industry, had the opportunity to participate in the discussion focused on the current challenges in security sector governance and new arising issues.
In his opening remarks, Deputy Head of the OSCE Mission to BiH Alexander Chuplygin highlighted the significance of the Security Policy courses, which form the basis for a permanent security policy training program in the country.
"The Course serves as an opportunity to enhance the implementation of the Policy by highlighting the role and obligations of institutions of BiH and other actors in this field. It also represents a forum to examine the complex and wide-ranging aspects of current security policy issues and provide insight into the latest security policy developments", Chuplygin said.
One of the topics covered by the course was energy security. Edin Delic, Mayor of the Municipality of Lukavac, emphasized the importance of energy sustainability in maintaining security.
"Energy sovereignty and energy security are prerequisites for all forms of sovereignty and security on both the national and international level. Introduction of the concept of energy sustainability is an acknowledgment that the consequences of an inadequate energy policy can pose a threat to the national security and international relations", Delic stressed.
This course forms a part of a wider Security Policy Training Program which strives for effective implementation of the BiH Security Policy, organized by the OSCE Mission to BiH and Inter-Ministerial Working Group on Monitoring the Implementation of BiH Security Policy. The advanced course is accredited by the BiH Civil Service Agency with four credits and serves for the professional development and career advancement of civil servants./IBNA