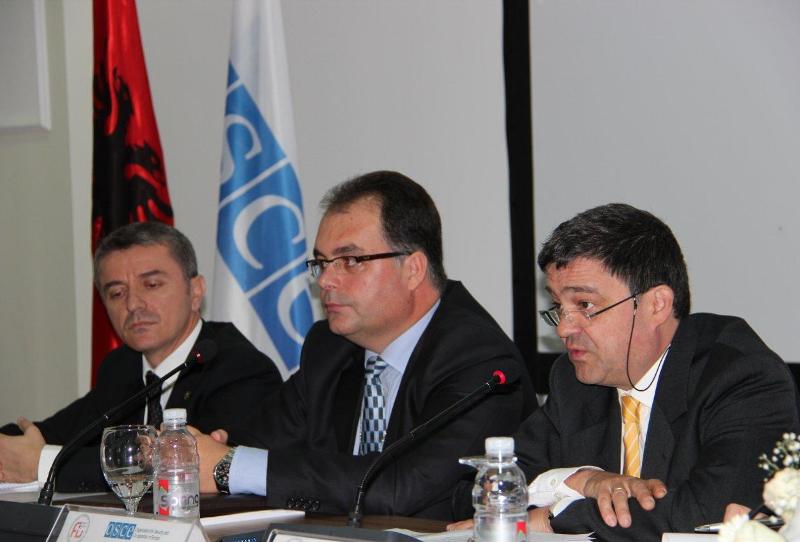 Durrës (Albania), October 10, 2013
A regional conference aimed at strengthening co-operation on anti-money laundering and combating the financing of terrorism as well as corruption in South Eastern Europe started today in Albania. The event is organized by the OSCE Presence in Albania and the Office of the Co-ordinator of OSCE Economic and Environmental Activities, together with the Albanian General Directorate for the Prevention of Money Laundering.
"Money launderers do not know borders. Unfortunately, state institutions still do. This is why the OSCE tries to encourage you and to support you as well to work over the borders, to work together, in order to achieve the results we need," said the Head of the OSCE Presence in Albania, Ambassador Florian Raunig.
"Moreover, firm and transparent handling of cases of alleged corruption, regardless of the status of those accused, is an important indicator of the state power, and of the independence of its institutions' responsibility towards the people."
The conference brings together law enforcement and financial intelligence officials from South Eastern Europe and OSCE experts. They will also examine the role of financial intelligence units in combating corruption, and specific tools available to conduct financial investigations of corruption offenses.
"Tools and institutions to combat money laundering and corruption have developed largely independently of one another," said Christian Larson, Programme Officer on Economic Co-operation and Governance in the OSCE Secretariat. "However, there is a growing consensus that anti-corruption agencies and financial intelligence units can increase their effectiveness by working together, a fact to which this conference seeks to draw attention."
On the sidelines of the conference, the heads of the financial intelligence units of Albania, Bosnia and Herzegovina, Croatia, the Former Yugoslav Republic of Macedonia, Serbia and Slovenia will hold a meeting on regional co-operation in the fight against money laundering. /ibna/