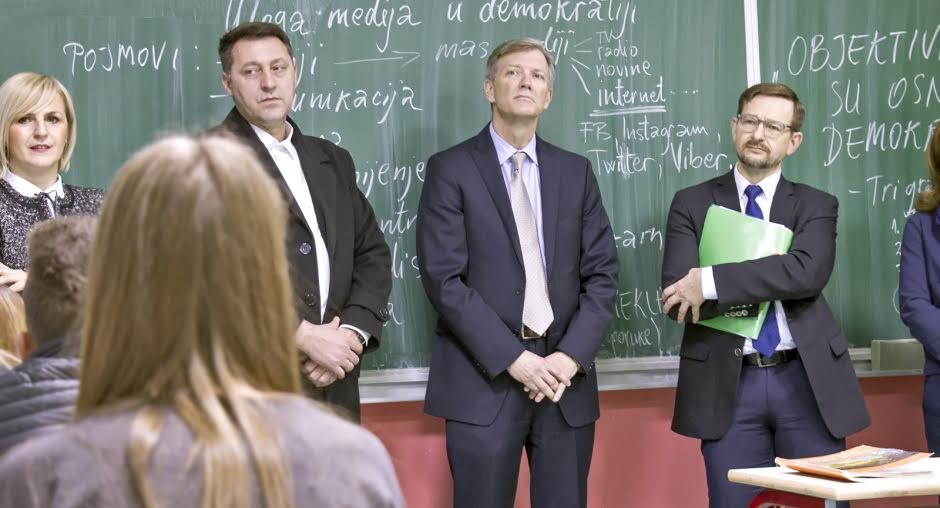 During his two-day visit to Bosnia and Herzegovina, OSCE Secretary General Thomas Greminger, stressed that it is essential to focus on the long-term benefits of political dialogue and compromise for all citizens of Bosnia and Herzegovina (BiH) and not pursue short-term political gains.
The OSCE Mission to BiH press release reads that, during his visit, Greminger met the BiH Presidency members Dragan Čović, Mladen Ivanić, and Bakir Izetbegović. Discussion focused on the BiH election law amendments, segregation and discrimination in the education system, and reconciliation within the country and regionally.
"It is regrettable to see the lack of progress in amending the BiH election law in line with the recent constitutional court decision. It is imperative that political leaders engage in constructive, transparent and good faith discussion to find a solution before May", Greminger said.
He noted that the OSCE Mission to BiH will continue to work closely with other international partners to facilitate dialogue and compromise, but that the parties themselves should engage more.
Greminger also met with the BiH Deputy Foreign Minister, Josip Brkić, and, after their meeting, he stressed that "the country remains a strong and trusted partner to the OSCE".
"We will continue to support the reforms and constructive engagement by all sides to move the country forward", were Greminger's words.
The Secretary General met with the Chairpersons of the  BiH parliament's House of Representatives and House of Peoples Ognjen Tadić and Borjana Krišto and with their deputies Bariša Čolak, Safet Softić and Šefik Džaferović.
"It is important to note the country's progress in the past decade, including implementation of the reform agenda. However, I am very worried about the current polarized political climate. Negative rhetoric by political leaders undermines what has been achieved so far, slowing down meaningful progress", Greminger underlined.
Greminger visited Travnik where he met the Prime Minister of the Central Bosnia Canton, Tahir Lendo, and the Education Minister, Katica Čerkez.
"Discrimination and segregation in schools is damaging BiH's most valuable resource – its youth. An inclusive and non-discriminatory education system is essential for reconciliation and long-term stability", the OSCE official said.
Together with the Head of the OSCE Mission to BiH, Bruce G. Berton, the Secretary General presented the Mission's report "Trial Monitoring of corruption Cases in BiH: First Assessment" at a launch event in Sarajevo.
Greminger added that, "Corruption is a phenomenon that lies at the heart of so many problems in our societies. It weakens economies, undermines democracy and the rule of law. It erodes the public's trust in government. Combating corruption is a long-term process that requires bold leadership, a change of values and action by all of us".
Greminger also met representatives of the international community and civil society in the country as well as the staff of the OSCE Mission to BiH.
The Head of the OSCE Mission to BiH, Bruce G. Berton, and, on behalf of the 2018 Italian OSCE Chairmanship, the Italian Ambassador to BiH, Nicola Minasi, accompanied the Secretary General during his visit…./IBNA