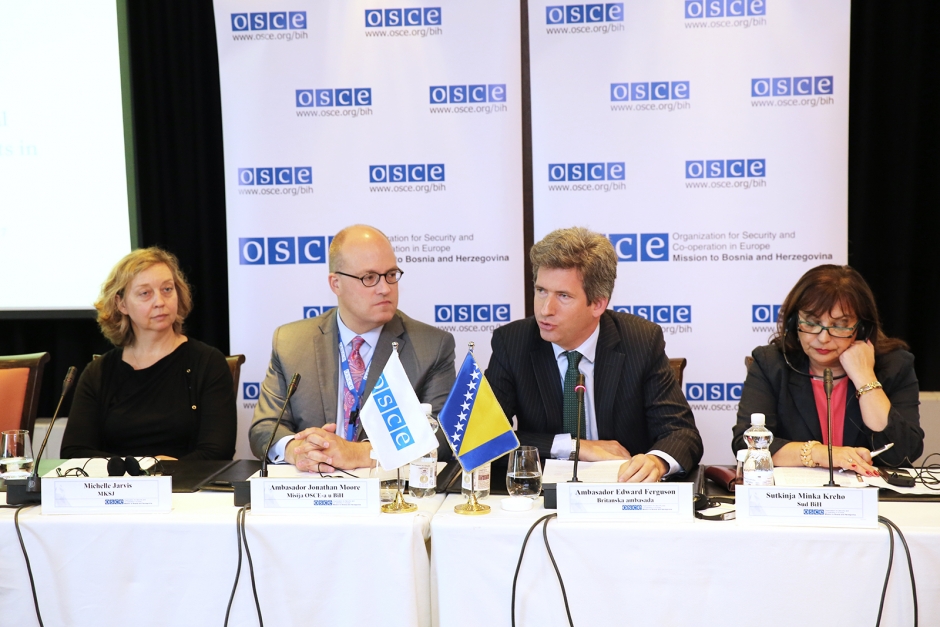 The OSCE Mission to BiH today presented the third in a series of reports that highlights progress achieved by the country's justice sector between 2014 and 2016 in tackling cases of sexual violence committed during the 1992-1995 war, as well as recommendations on how to enhance these efforts.
The report, "Towards Justice for Survivors of Conflict-Related Sexual Violence: Progress before Courts in BiH 2014–2016", notes the challenges that remain for ensuring that such cases are processed fairly and that survivors of conflict-related sexual violence are treated with respect throughout the criminal justice process.
"The OSCE Mission to BiH remains committed to assisting the justice sector in the implementation of these recommendations, which I believe will help ensure the best possible outcomes for survivors of sexual violence and for the justice system as a whole," said Ambassador Jonathan Moore, Head of the OSCE Mission to BiH at the presentation in Sarajevo on Wednesday.
Edward Ferguson, Great Britain Ambassador to BiH said that, since 2014, his country has been working with courts and prosecutors' offices across BiH, and with international partners, to improve the care provided to survivors of wartime sexual violence.
"This report confirms that these efforts have delivered concrete results. There has been a significant increase in the prosecution of sexual violence cases. I am particularly pleased that there has also been improvement in caring for the wellbeing, safety and dignity of victims of sexual violence. I congratulate everyone who has worked hard for this. Our work will continue, to ensure that more survivors will receive justice, and that they can access key services, including financial and psychological support," Ferguson emphasized.
He also reminded that his country was the host of global summit about this important issue and that one of main conclusion was that sexual violence in armed conflicts must be stopped forever. REpresentatives of all participants of summit agreed about this conclusion.
Deputy Prosecutor at the International Criminal Tribunal for the former Yugoslavia, Michelle Jarvis stressed the importance of the fact that BiH made a very real progress on this issue, as reflected in the Report. She added that there is no doubt that BiH now has one of the most developed bodies of national practice on conflict-related sexual violence anywhere in the world. "This stems from both the volume of cases now prosecuted as well as the multi-faceted factual and legal issues dealt with at increasingly sophisticated levels," Jarvis pointed out.
However, she said that despite the success, many victims of sexual violence during war in BiH are still waiting for justice in their cases.
Commenting on the significance of the OSCE report for the judiciary, Judge Minka Kreho of the Court of BiH noted that these reports are an excellent reference which can be used to increase the understanding of what has been done adequately, what can be improved, and how to further enhance our judicial system so it is in line with contemporary national and international law. This report, as she added, will be useful not only to practitioners, but also academics and students interested in researching this topic./IBNA
Photo: OSCE/Edib Jahic