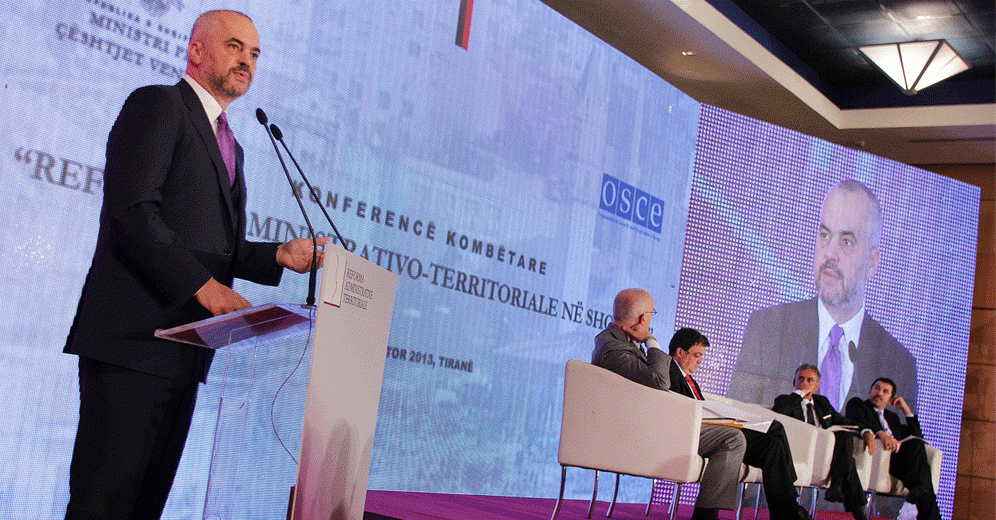 Tirana, October 17, 2013
The Albanian Government and the OSCE Presence in Albania co-organized a national conference today in Tirana that initiates a major administrative and territorial reform in the country.
"The administrative and territorial reform is a key component of ensuring good governance, which is an important part of the Presence's mandate," said the Head of the OSCE Presence in Albania, Ambassador Florian Raunig. "The reform should comply with the provisions of the European Charter of Local Self-Government, and, in particular, must guarantee the political, administrative and financial independence of local governments. It is essential to ensure that the decision-making process for this reform be transparent, inclusive and consensual."
The government of Albania has set the administrative and territorial reform as a priority to be accomplished before the 2015 local elections.
Speaking at the conference, Albania's Prime Minister Edi Rama said: "A new administrative territorial reform will undoubtedly strengthen the economy, strengthen communities from a social point of view and give a further chance to the culture of living together in this country."
The current administrative and territorial division of Albania resulted in the creation of very small local government units with limited resources and assets, which make it difficult to provide quality services to the citizens. The need for a new division has been identified by several organizations during the last decade, including the OSCE.
"Much more can be done with the same financing resources just by changing a number of internal territorial and administrative borders. Nowadays, this is the tendency everywhere" Edi Rama said.
The Head of the European Union Delegation to Albania, Ambassador Ettore Sequi, said: "Repeatedly, the progress report on Albania, including the 2013 progress report which was launched yesterday by Commissioner Füle has been quite explicit about the various concerns with the functioning of local government units. Known are the concerns about collection of revenues, strategic planning, human resource management, financial control, transparency, as well as the high number of staff with temporary contracts in local government units".
The OSCE Presence has been engaged in this sphere for many years, providing support to the government through assessments and recommendations to guide the reform process. At the conference, an OSCE expert, David Parks, presented the participants with a comparative overview of territorial reforms. /ibna/