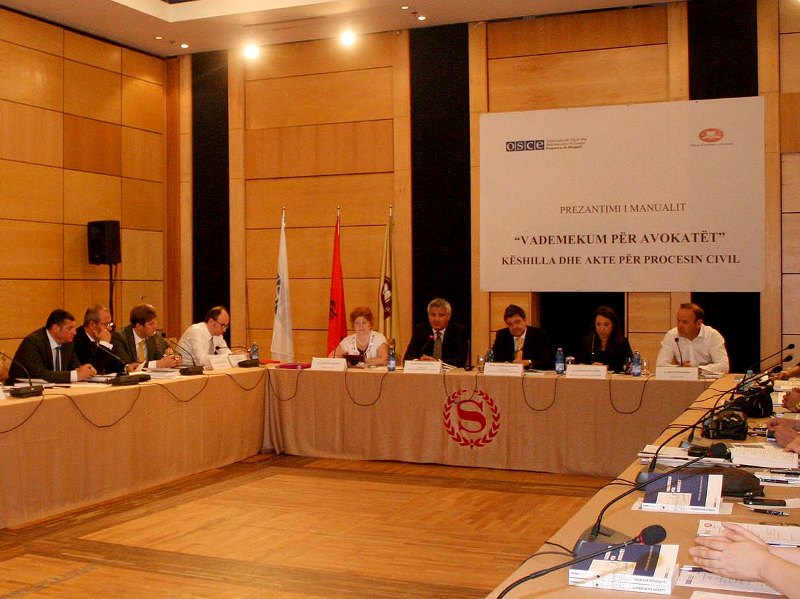 Tirana, July 1, 2014 IBNA
A legal manual that will help lawyers improve their performance in the civil court proceedings was presented by the OSCE Presence in Albania and the Albanian National Chamber of Advocates at an event held today in Tirana.
Reiterating the commitment of the OSCE Presence in Albania in particular to the improvement of the Albanian justice system, the Head of the OSCE Presence in Albania, Ambassador Florian Raunig, said that in parallel to building up the professional capacities of judges and prosecutors, attention should be turning to lawyers and their professional needs.
"Lawyers play a key role at court, especially in civil proceedings where they are the actual driving force, and their professional preparation and qualification determines the quality of the civil proceedings," Raunig said.
"The Vademecum for Lawyers, Guidelines and Acts on Civil Proceedings is an ambitious publication, a result of a long and meticulous effort on the part of all the stakeholders, and we trust it will meet the professional needs of the lawyers."
The Vademecum is meant to serve as a reference tool in the daily work of lawyers, in particular those who are new to the profession, and takes a novel approach to civil proceedings. The handbook includes practical advice and recommendations on three key aspects of the lawyers' work: dealing with the regulatory bodies working with professional lawyers; the client-lawyer relationship and the lawyers' preparations for civil proceedings; as well as the lawyers' actions while representing clients before the court.
The manual was drafted by renowned experts in the field with the support of the OSCE Presence in Albania and the Norwegian Government. /ibna/