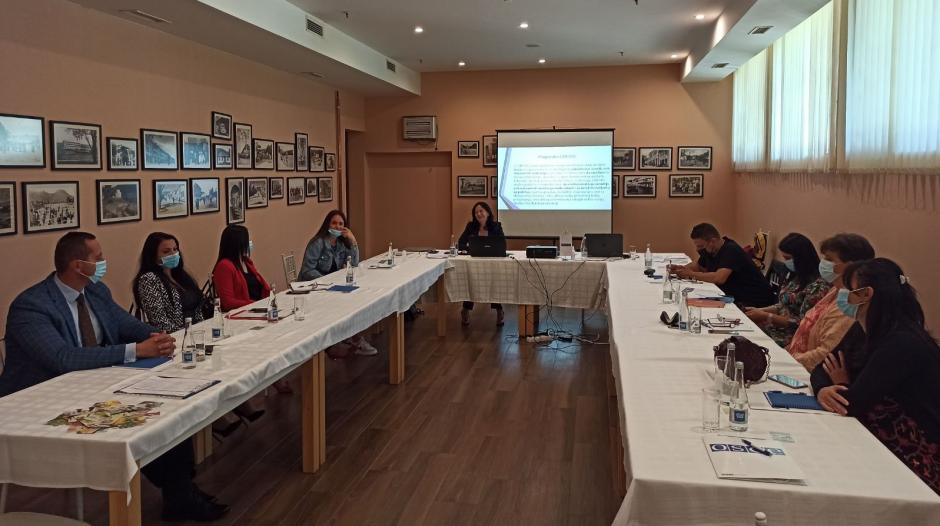 From 7 to 28 September 2021, the OSCE Mission to Montenegro organized in Bijelo Polje, Berane, Plav, Bar and Ulcinj a series of workshops focusing on multi-sectoral approaches supporting women who have experienced domestic violence.
Over 50 representatives of basic and misdemeanour courts, prosecutors, police, social and health services, municipality' gender offices and NGOs took part in the event.
"During the interactive workshops, representatives of the institutions and organizations involved in protecting survivors and victims of domestic violence discussed requirements and recommendations laid down in national legislation, the Council of Europe Istanbul Convention and GREVIO Evaluation  Report on Montenegro on legislative and other measures giving effect to the provisions of the Convention. Participants also exchanged their knowledge, experiences and good practices, clarified questions and respective competencies, ensuring strong inter-institutional co-operation in the cases of domestic violence," said OSCE Mission to Montenegro in the press release.
Gender experts Biljana Zeković and Aleksandra Gligorović agreed that the workshops were based on intensive discussions through which representatives of institutions and organizations reached common conclusions and agreed on directions for an efficient and effective multi-sectoral response to cases of domestic violence. "The need for professionals in areas related to effective protection of victims and sanctioning of perpetrators are clearly articulated, which is important for designing future similar programmes that will further strengthen capacities of state institutions and organizations," said the experts.
The Mission will continue to support institutions and civil society organizations to work together on promoting gender equality in a society with zero tolerance towards domestic violence.
Photo: OSCE/Zorica Ćeranić